Working Bee Wrap February - March
OTHR volunteers have been busy over the past four weeks with a number of activities which was well supported by:
Monthly open day supporting the Skoda Tatra Museum official opening saw over 7 members helping out on the day, also to note the three volunteers from Oberon Youth Council providing wait service.
OTHR also had an open day in support of the Oberon Heritage & Collector Club and four other museums in "Open day at Oberon" this function again was where supported by OTHR volunteers and had good crowds despite a rainy afternoon.
Vegetation control > You can see the results of 'chipping away' at the weeds the yard is looking much loved again.
Signal and Levers> Mick the signal man did some maintenance of the 'Home Stick' and 'C' frame levers and rodding. Mick is planning to work his way through the yard with a squirt here and a adjustment there.
Project working bee> the replacement of 10 turnout timber bearers and a 6m closure rail on the back end of the turnout Road 2 and PWD siding. A lot of preparation has gone into to prep the site and get the materials onsite ready to go on the day. Oberon Council provided an excavator and operator for the day as part of their 'in kind' support to OTHR. Also, some work done on the internal side of the Freezer Van door.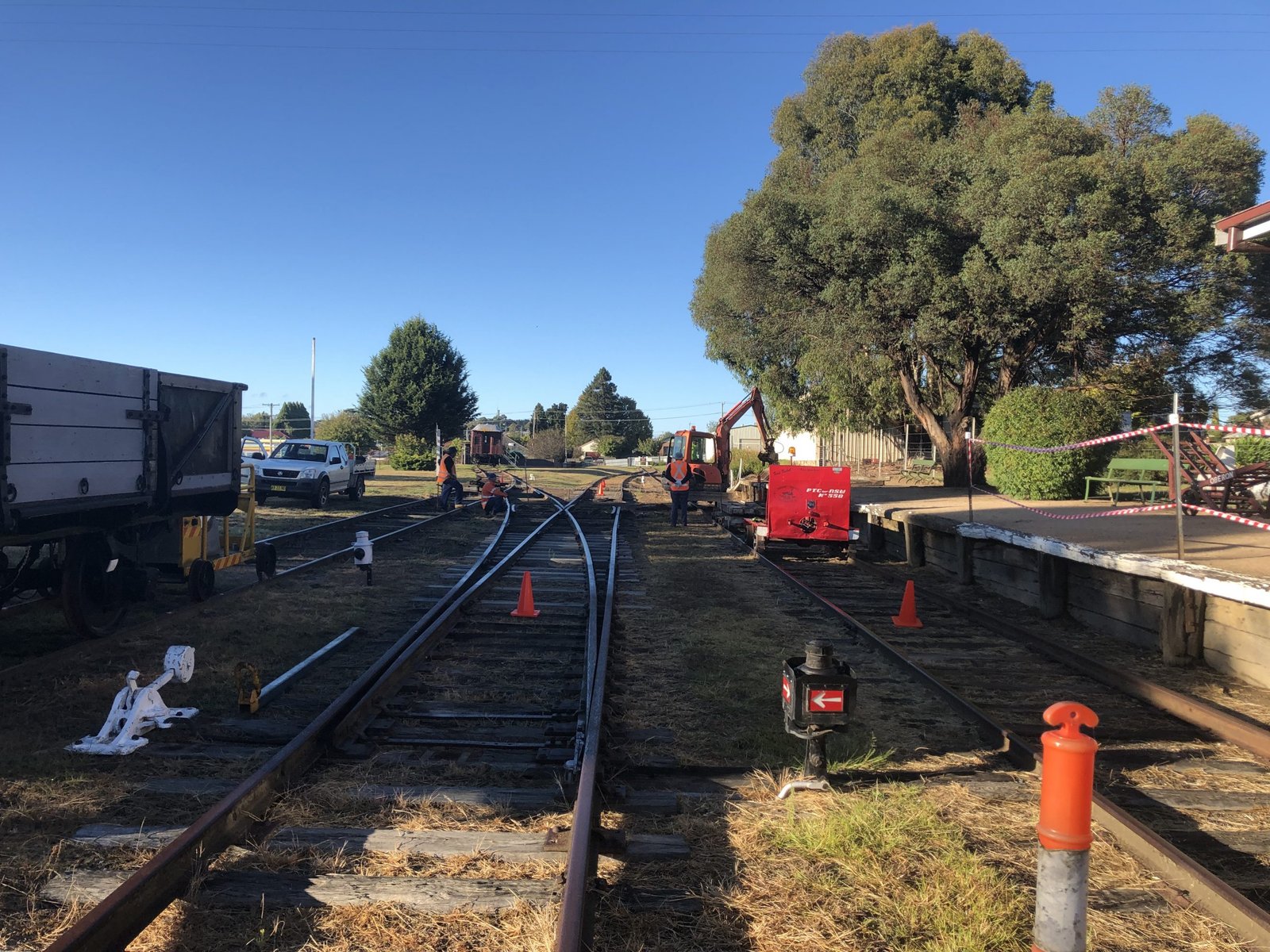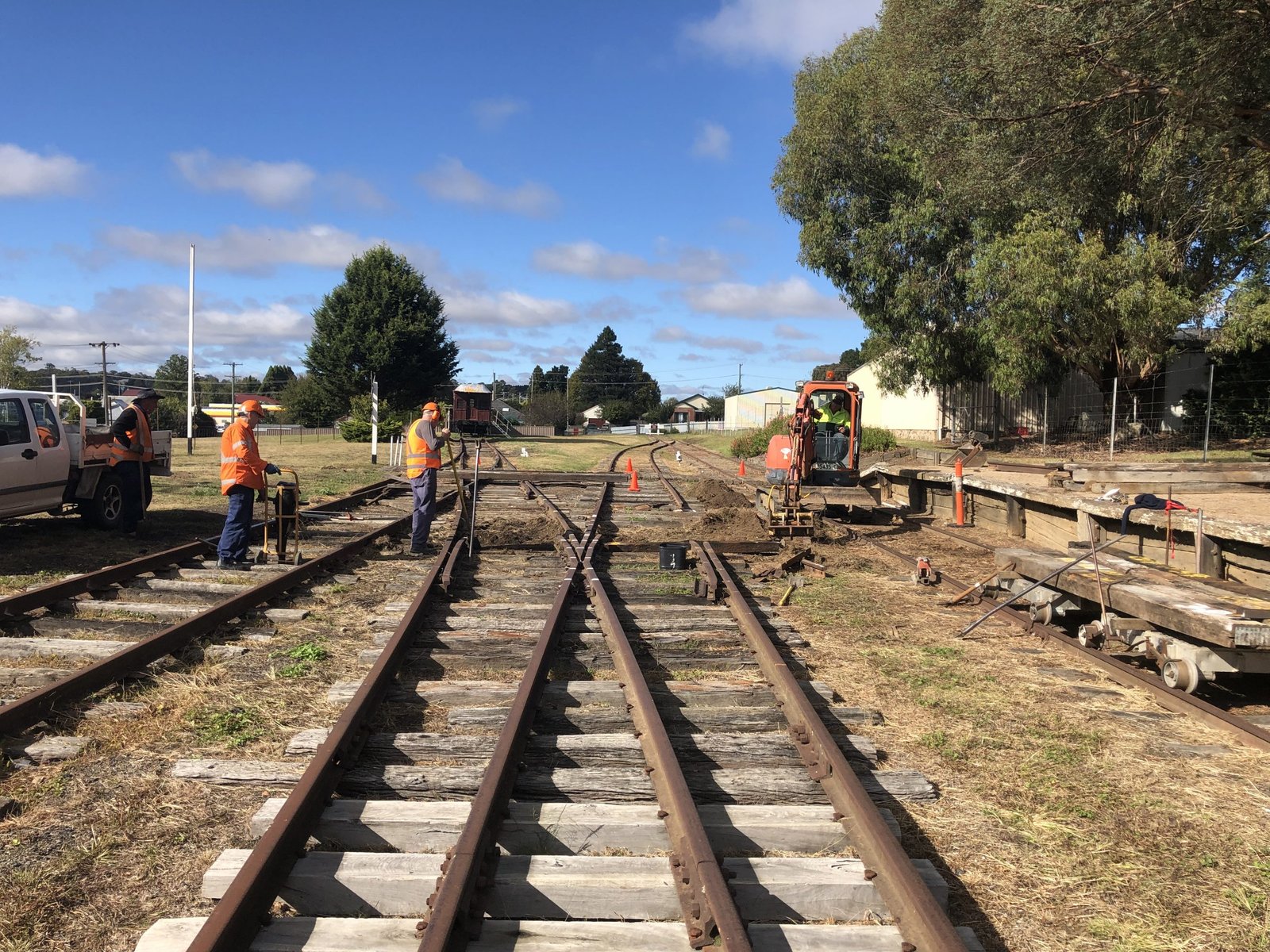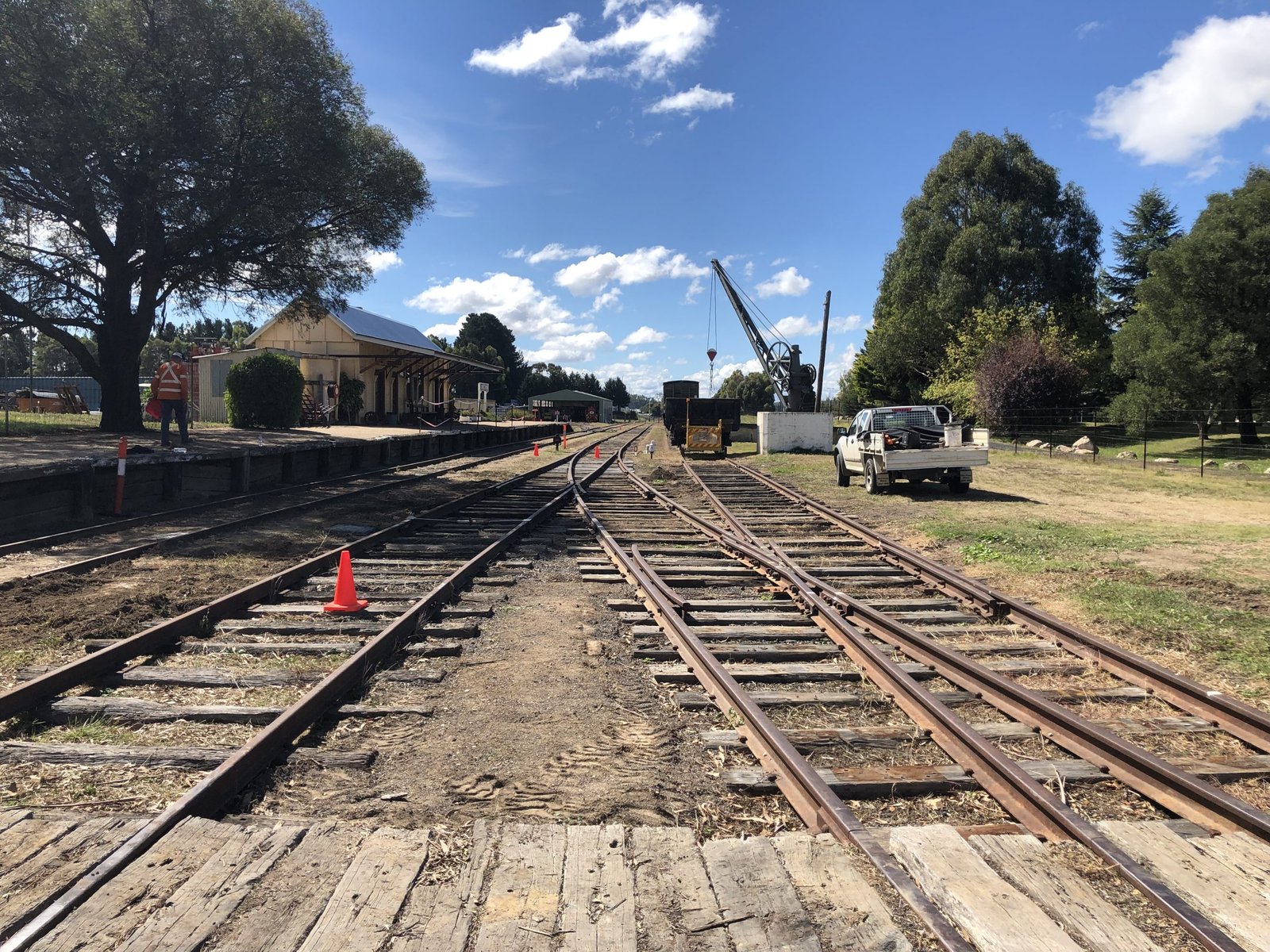 Working Bees
There is always a variety tasks and projects that members can get involved with at OTHR, from vegetation control, track work, painting of rollingstock, maintenance and rebuilding rollingstock just to name a few. And the skills required also vary from task to task, so if you want to become actively involved in OTHR's mission to run a Heritage Tourist Train on the Oberon Branch Line, give us a call or send OTHR an email.
Working Bees
• Last Friday of the month prep Station / Rollingstock shed for the open day. (ongoing)
• Vegetation control Oberon Yard (ongoing)
• Replace 2 in 4 sleepers on the Coal Storage Road.>  Completed
Clear track defects in the yard.
o Raise check rail (up rail) on "C" frame turnout. > Completed
o Install clearance markers on all turnouts. > WIP
o Replace 9 lengths of rail on 3 road (Main).
o Install Stop Block at the Buffer Scotia Ave. > Completed
o Install Stop Block on 3 road at gates near home signal.
o Double Dog spike on "crossings".> WIP
o 47KG closure rail on 2 Road near crane. > Completed
Replace turnout timbers> WIP > 27 out of 34 replaced
• Install throw over lever on 5 road points.
• Relocate ladder on Home Signal.
• Re-painting of S14201. > WIP >
• Re-painting of Car Set 21.
o Body – WIP
o Roof – Completed
• Install wooden gates at northern fence near home signal.
• Develop the area in front of the office as work area (benches etc). > Completed
• Relocate paint and other items from area between 6 road and side of shed to the new work area. > WIP
• Review items stored in the Freezer Van, take unwanted items to the tip. > WIP
Working Bee Wrap January & February
OTHR volunteers have been busy over the past four weeks with a number of activities which was well supported by:
Monthly open day > Arthur, Dave, Graham, Greg, John, Ian & Victoria.
Vegetation control > A big thanks to Barry for getting on top it, also Arthur, Brenda, Greg & Martyn.
Painting of the roofs Car Set 21 > Mike.
Pin puller and other maintenance > Graham & Mark.
Planned project working bee
• Pinning sleepers and timbers Road 1 > Geoff, Graham, Greg & Martyn.
• Freezer Van doors > Tim.
• Platform work > Geoff, Greg & Martyn
Next planned working bee 20th & 21st March, turnout maintenance Road 2
• Replace 47kg closure rail
• Replace 4 turnout timbers on the back end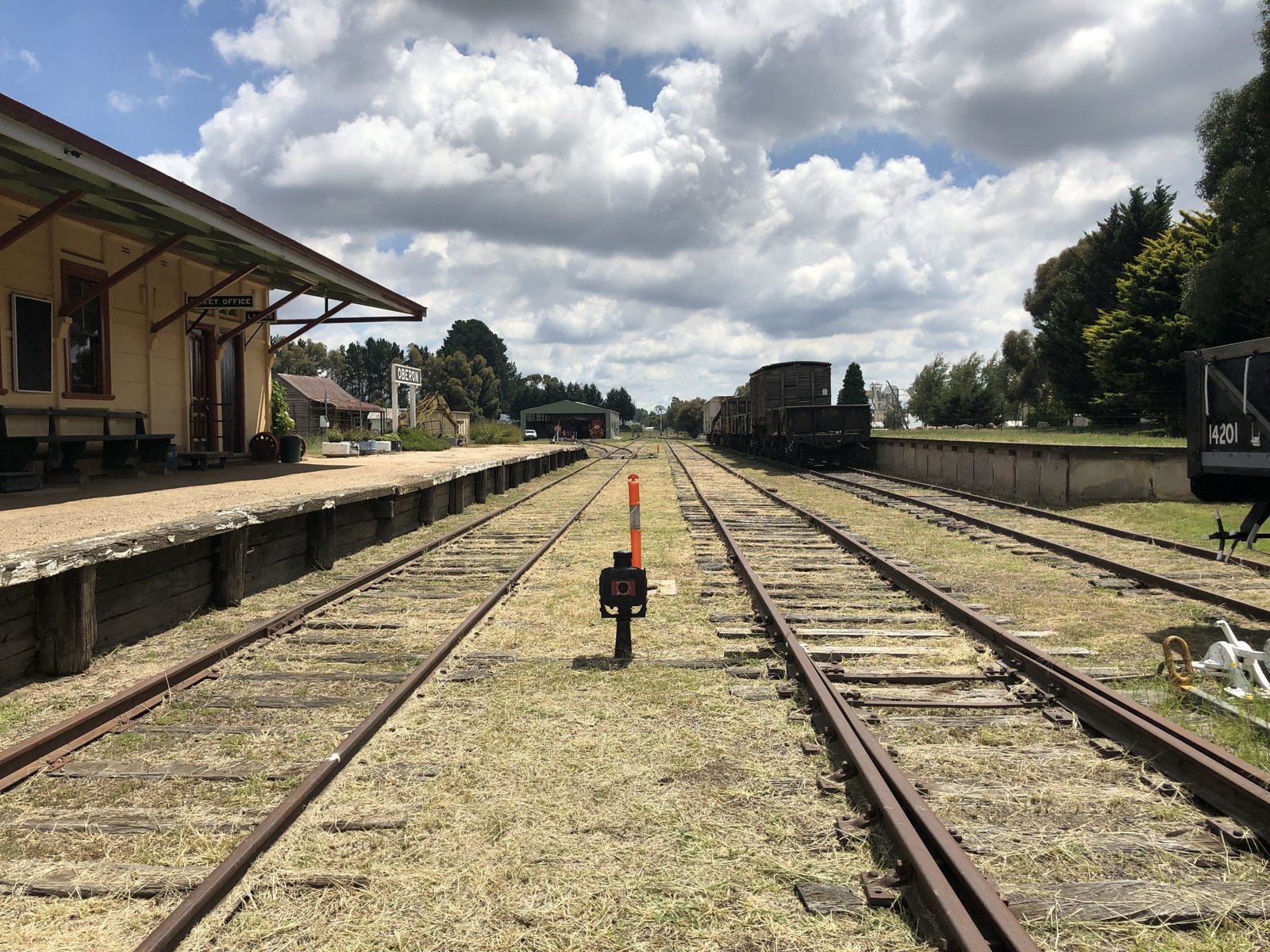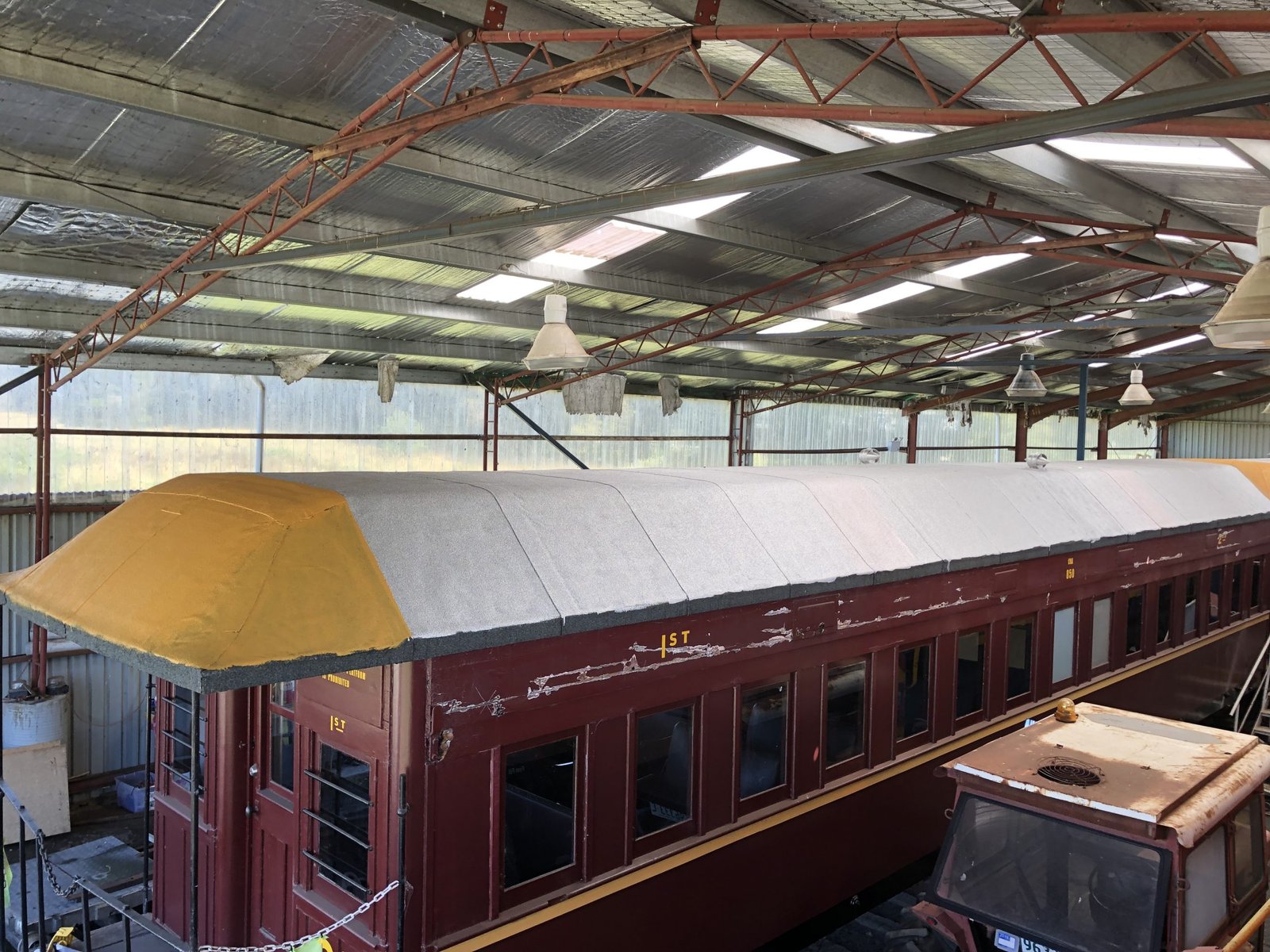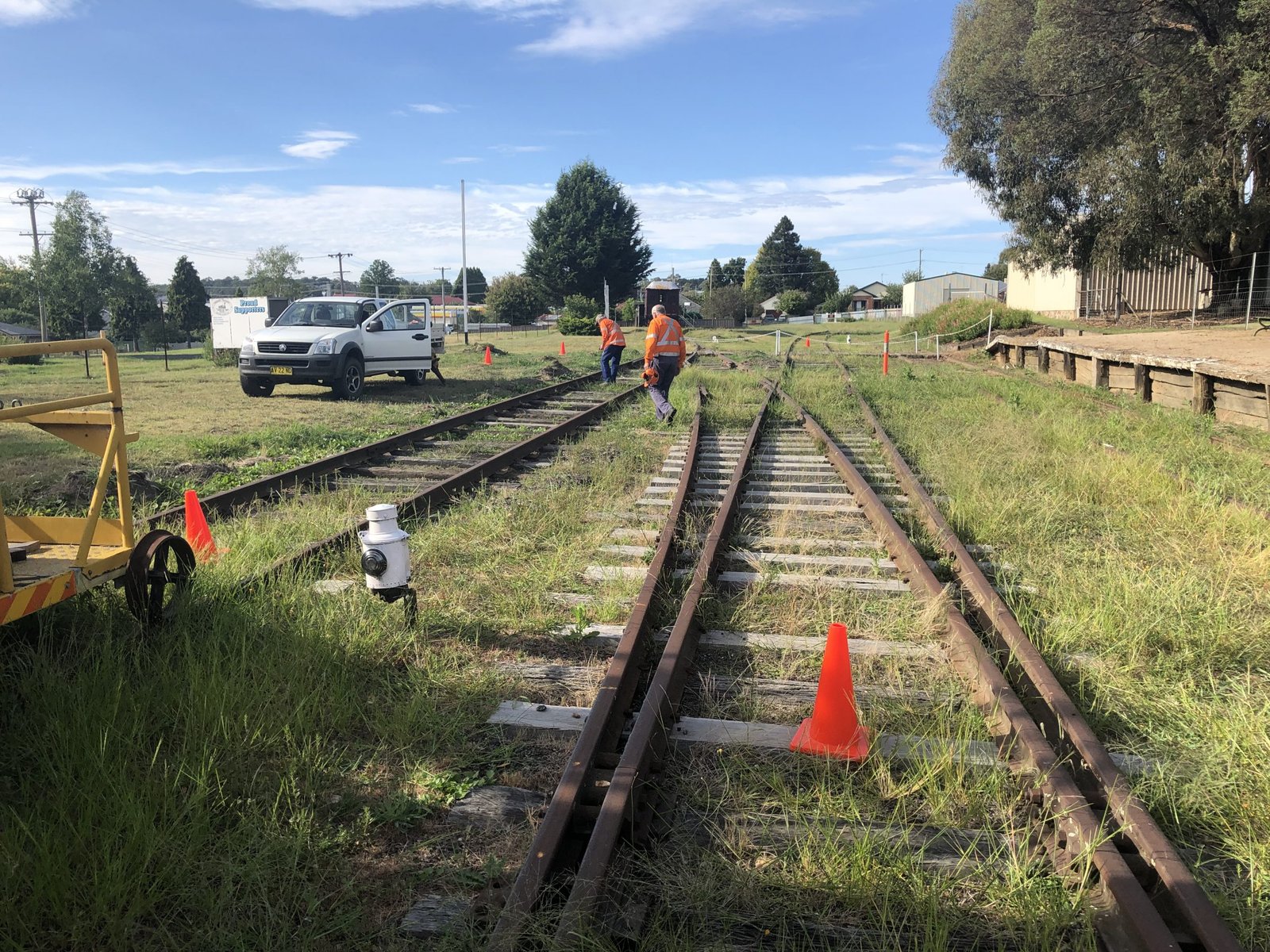 Grant for platform
The local member Paul Toole called into the Oberon Station this afternoon, to announce that the Oberon Tarana Heritage Railway was successful in obtaining a $133k grant to replace the platform retaining wall and coping edge. This is great news for the hard working volunteers of OTHR who are preserving the heritage listed station and platform as part of the overall plan to run a heritage tourist train along the Oberon Branch Line.
Rail corridor land swap & Shunting accreditation
Today 12th September, saw an onsite meeting between Transport for NSW, John Holland Rail and Oberon Council, with OTHR in attendance, to discuss the issue of the rail corridor at the Lowes Mount Road level crossing. All parties have agreed to work together to redefine the 'rail corridor' and 'road' by the means of a land swap. Once the land swap issue has been resolved and the rail corridor is defined then OTHR can apply for a Heritage Operators Licence (HOL) for part of the Oberon Branch from Oberon to Hazelgrove 6km's north of Oberon.
While the above is being resolved, OTHR can be working on documentation for Level crossing interface agreements, Track standards and Network Rules. Further, OTHR is also working on its Shunting accreditation (ONRSR) for the Oberon Yard area.
Visit Oberon Railway Station and Rollingstock Shed
Coming to Oberon? Why not visit Oberon Railway Station and Rollingstock Shed? In the Heritage listed PC3 station building you will see a photo display of the Tarana Oberon branch line history, OTHR's restoration of the Oberon Yard Precinct and railway memorabilia. Walk through and seat down in 1897 American style End Platform Carriages. In the Yard view a variety of trikes and track inspection cars and a short walk down to the Rollingstock Shed where you can find our 73CL Diesel Locomotives, more carriages and inspection cars.
Open on the 1st Saturday of the month between 10.00am to 2.00pm or by appointment for groups (see Contact Us page on OTHR.com.au)
Admission charge is $5.00 (18 years and over)