September 2021
Oberon Tarana Heritage Railway Inc
Contract No: CDG 1296 – Stage 1
Tender to carry out restoration work to reopen 5.8km of railway line from Hazelgrove to Oberon
Oberon Tarana Heritage Railway is an accredited railway operator carrying out railway operations in Oberon Yard.
Tenders are invited from experienced railway contractors to carry out rail restoration work to reopen 5.8km of the non-operational railway line from Hazelgrove to Oberon.
RFQ form and Scope document are available for interested tenderers. Please email to admin@othr.com.au  to receive a copy of the tender documents. For any enquiries phone Ken Lingabala on 0407 064 786.
Tender closes at 5 pm, Friday 29 October 2021.
—-Post Added 10th September 2021—-
________________________________________________________
The Covid Lockdown has certainly slowed down working bee progress in the Oberon Yard. We have lost around 30 working bee days since the announcement of the 'Out there in West" lockdown on August 14th. We were just finishing up a working bee that day when we heard the news. I am sure some did not make it home by the 5.00 pm deadline.
The rain and snow last week created a reasonably big job on the track and in the corridor just south of Black Bullock Road.
This week we have had better weather. Slightly warmer nights and a few days with the daily temperature above 15 degrees. Increased sunlight and increased temperatures result in significant plant growth – we will be out in force soon on vegetation control.
You will be pleased to know that the committee is still able to meet using Zoom technology. Individual members have been working on their particular roles.
In particular Dave McMurray has been very involved in writing grant applications – the last one sent off was for the THNSW 2021 Grants Program. We are also preparing for another major one. Ken Lingabala has continued to work on the tender documents for the line restoration Oberon to Hazelgrove. He sent them off to ONRSR yesterday. We will call for tenders in the next fortnight.
—-Post Added 5th September 2021—-
June & July 2021
July
Working Bees will continue each Saturday in July.
0900 to 1500.

Meet at the Rolling Stock Shed.

Participants will need normal PPE Equipment as well as a suitable covid mask.

Focusing on Security fence at rear of rolling stock shed & sleeper replacement in road 3
June Working Bees
Saturdays 19th and 26th June
Main focus area
Security Fence on Eastern Boundary – post holes and fence posts

Sleeper removal and replacement on road 2
Latest News
April 2021
Working Bees Saturday 17th and 24th
Meet at the rolling stock shed at 9.00am
Oberon Seniors Week Visit Wednesday 14th
Working Bees Thursday 8th, Friday 9th and Saturday 10th
Vegetation Control Oberon to Hazelgrove
Meet at the rolling stock shed at 9.00 am
Bi-monthly General Meeting Wednesday 7th
Oberon RSL Old Dining Room 7.30 pm
March Newsletter Uploaded Tuesday 6th
Open Day Saturday 3rd
March 2021
Working Bee Saturday 20th
March Newsletter Uploaded Monday 8th
Open Day Saturday 6th
HS36 was hooked on to the usual Open Day Consist – It was the first time members and visitors had the opportunity to look at it "up close"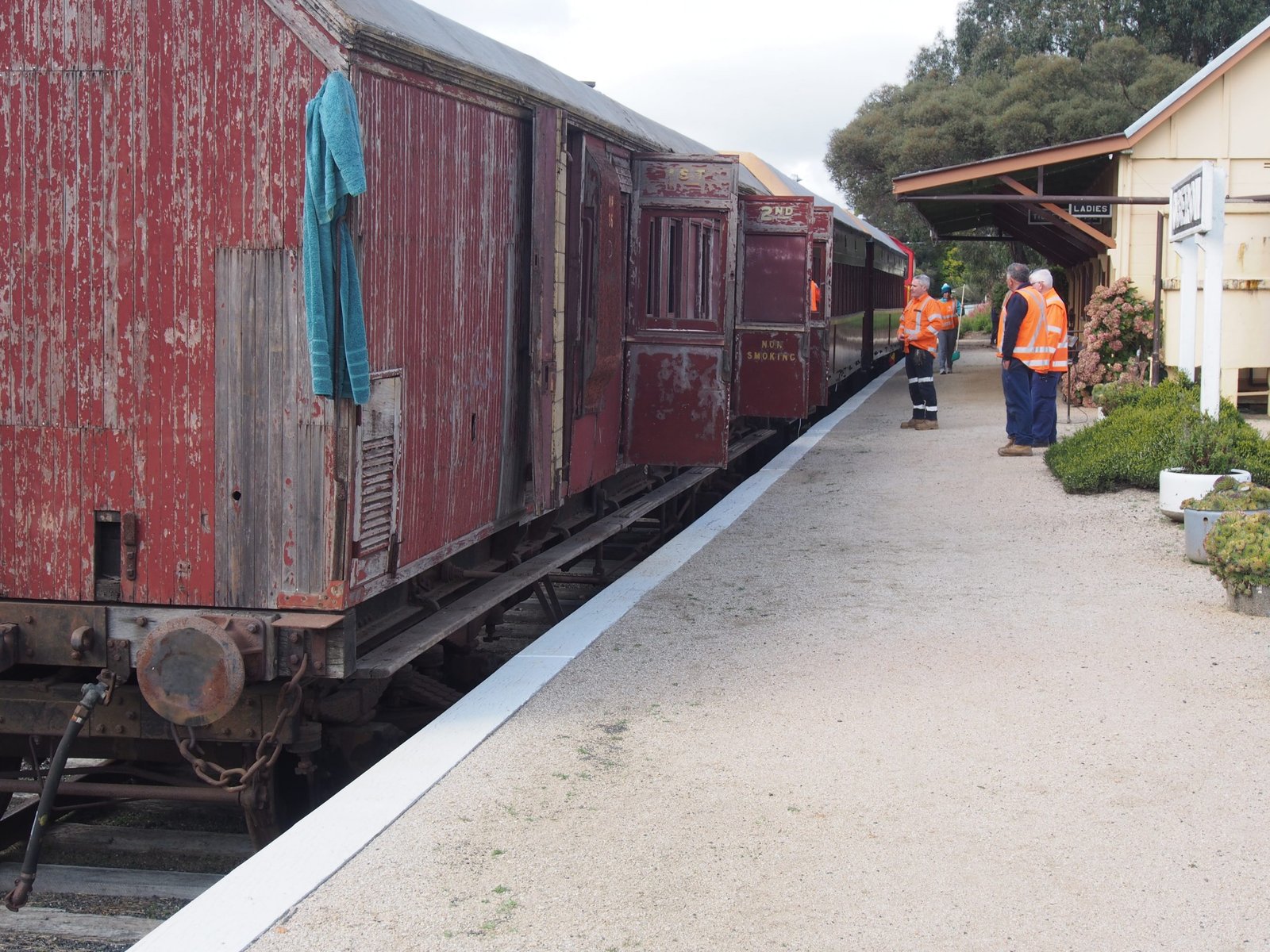 February 2021
Consultation Meeting with representatives from the Office of the National Rail Safety Regulator – Wednesday 3rd
Open Day Saturday 6th
Working Bee Saturday 20th
January 2021
Thursday 28th
The Department of Infrastructure, Transport , Regional Development and Communications have sent the Funding Agreement for $1,500,000 for signing. The project refurbishment of the line to Hazelgrove can proceed once signing has taken place.

This morning we successfully submitted another grant application for funding of extensions to the rolling stock shed, a turnaround loop at Hazelgrove as well as pathways and fencing in the Oberon Station Yard.
Welcome to 2021
We had the first 2021 Open Day Saturday 2nd. The weather was particularly bad as we made preparations for the shunt of the carriages to the station platform. It did improve and overall it was good day. We had a good turn up of visitors. Committee members were there in force and there was much talk about the year ahead.
On Monday 4th there was a special committee to discuss the Draft Funding Document that we received in the week before Christmas. Our reply will be determined at the meeting and submitted on Friday 8th.
There will be a General Working Bee on Saturday 16th starting at 9.00 am and for some finishing around 3.00 pm. In recent times a few have kept working until the task was completed.
Short Video of David McMurray  Advertising Tourism for Oberon
Channel NINE interview with Publicity Officer David McMurray
Dave was approached by Matthew Webb from Oberon Tourist Information Centre to do an interview on how the covid-19 situation was affecting OTHR. Please click on the news for video.
Hi-Rail in Oberon Yard Friday 22nd May
On Friday 22nd May OTHR had another visit by the track inspectors from Hi-tech Rail who are based in Bathurst. We were intrigued when they arrived with their hi-rail truck. We soon learnt that they were going to use it to check how rolling stock would traverse through the points that the fettlers had been working on over the last few week. Quite a large number of sleepers and timbers had been removed and replaced.
Overall a good report. Inspectors outlined several areas that needed further attention which is not surprising given the age of some of the sleepers that are in the yard.
Click here for videos
Weed spray unit
The new spray unit mounted on a sleeper trolley. The will be very useful as we do track maintenance north of Albion Street.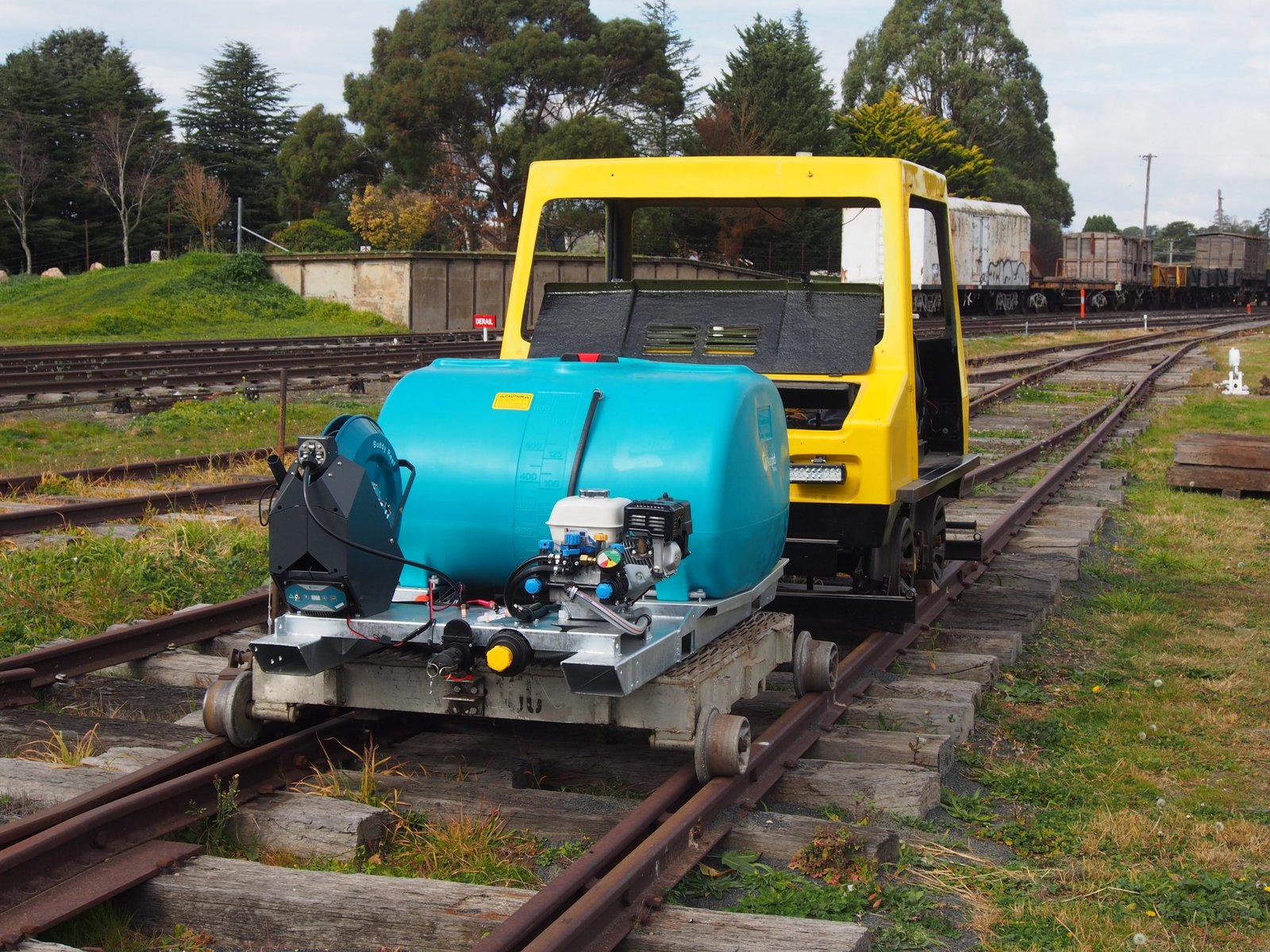 Sleepers old & new
A couple of very old sleepers along side a new one. They were recently removed from road 3, split at the end, the dog spikes were loose and would not have been holding the track in gauge. How long were these in the line?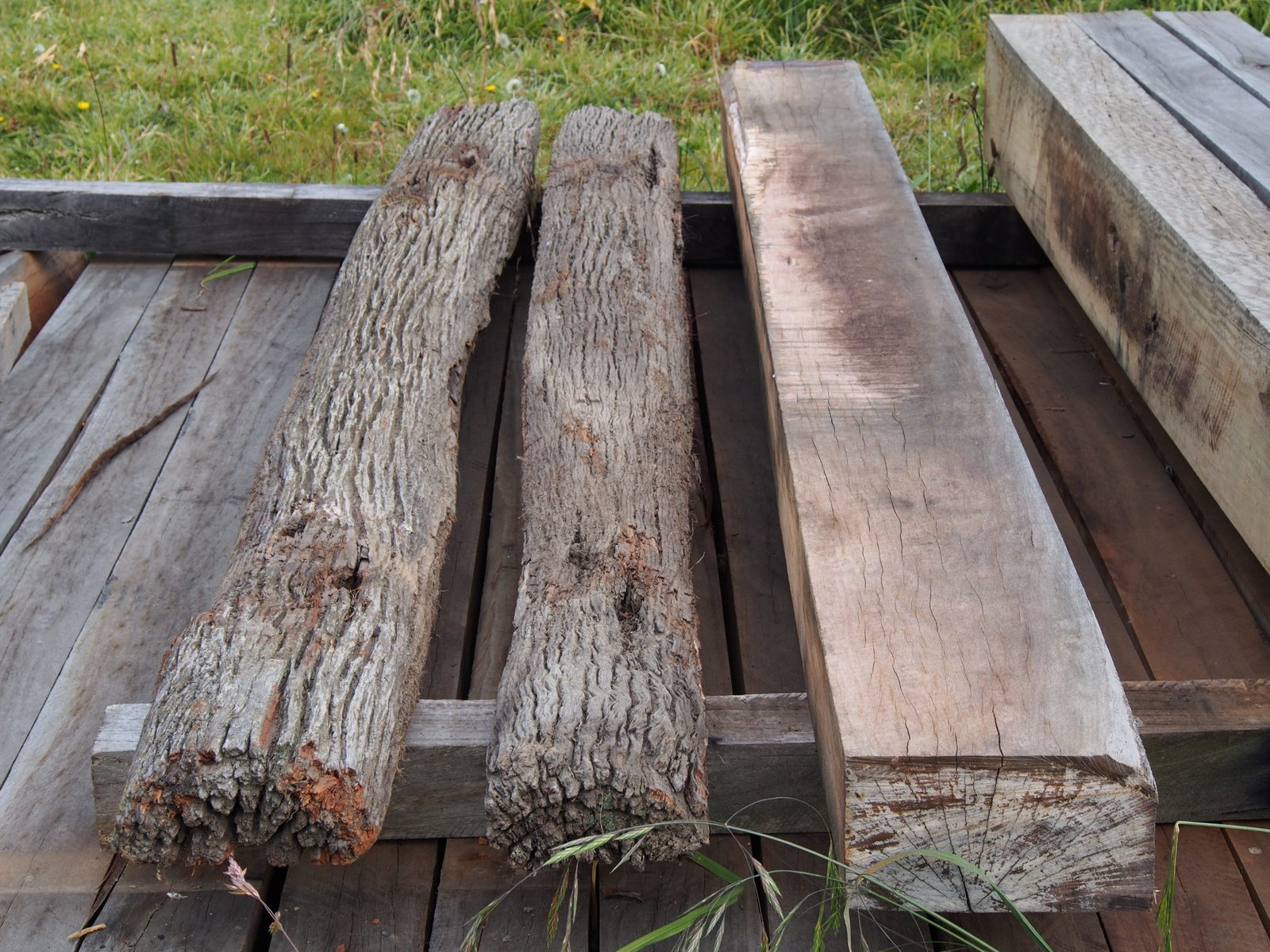 Yard & Platform works
Morestone have returned to paint the coping timbers white as well as rectifying some subsidence that occurred after heavy rains in recent months. The shot also shows the excellent work of Barry and Graham in clearing excess build up  between the sleepers over time. In the long term this maintenance allows the sleepers to dry out more quickly, it also allows quicker and more definitive identification of sleepers that need replacing.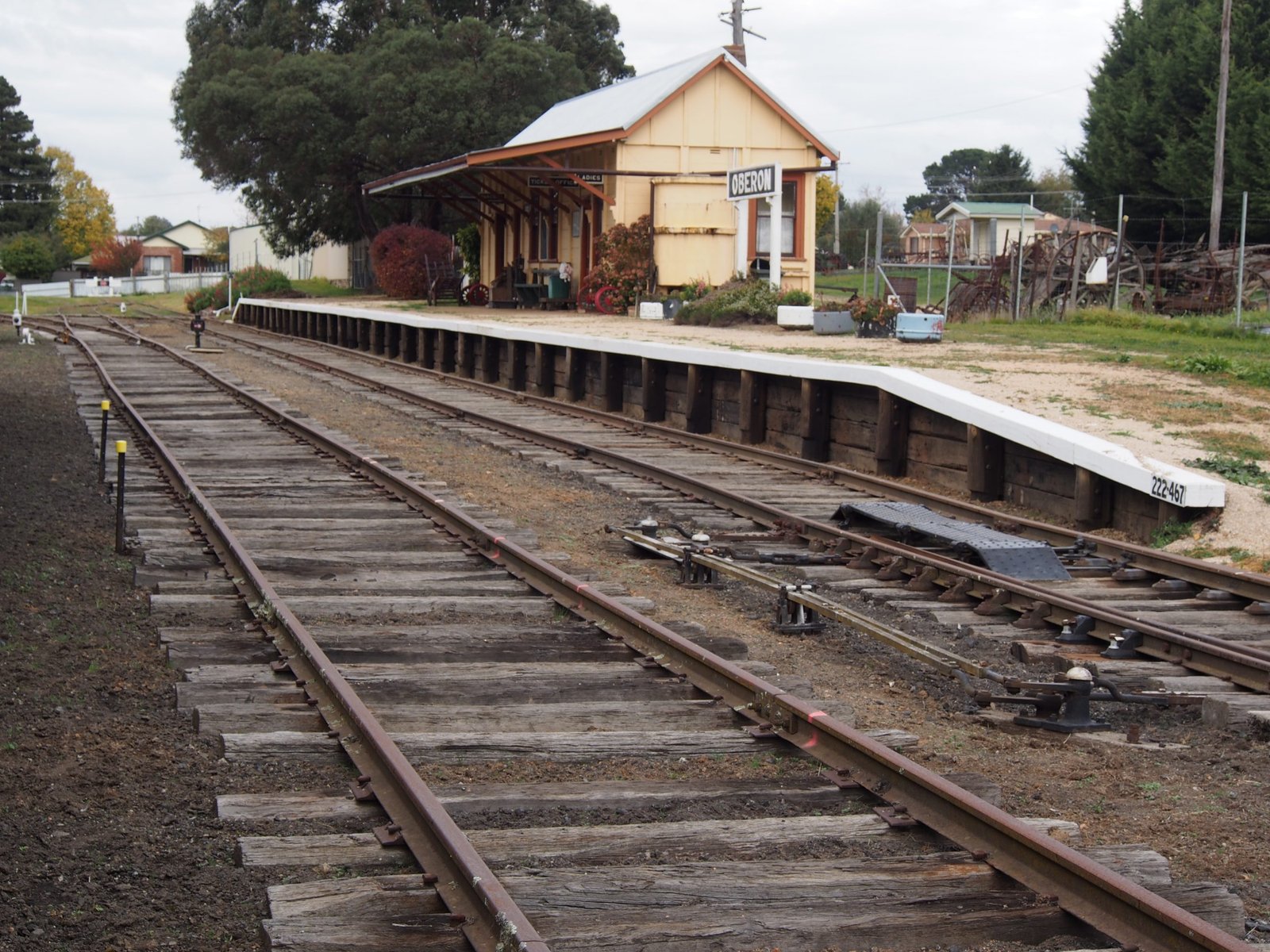 Working Bee schedule for 2020
Project working bee
Wednesday 3rd & Thursday 4th June (to be confirmed due to COVID-19 restrictions)
Wednesday 5th & Thursday 6th August (to be confirmed due to COVID-19 restrictions)
Wednesday 7th & Thursday 8th October (to be confirmed due to COVID-19 restrictions)
Wednesday 2nd & Thursday 3rd December (to be confirmed due to COVID-19 restrictions)
General working bee (third Saturday of the month) to be confirmed due to COVID-19 restrictions
Start / finish times 8:30am to 4:00pm during daylight saving times and 9:00am to 3:00pm during the cooler months.
Volunteer Group of the Year for 2020
Oberon Tarana Heritage Railway Inc. was awarded the Volunteer/Volunteer Group of the Year for 2020 at today's Oberon Australia Day celebrations. It's fantastic to receive this accolade by the town of Oberon for the hard work the group has been involved with in what is a truly monumental project that will contribute ultimately to Oberon's economic future.
Congratulations to all past and present volunteers.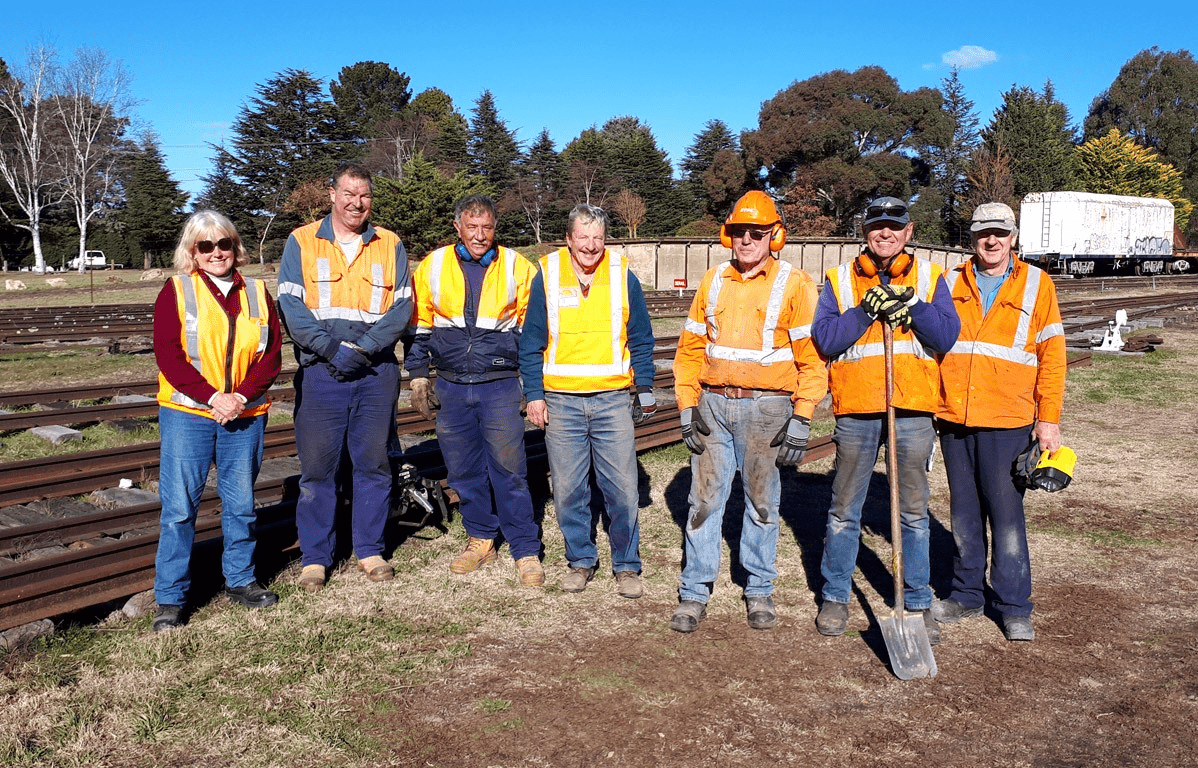 Project Working Bee 4th & 5th December 2019
A project working bee was held on the first Wednesday and Thursday of December, to replace a number of 24' lengths of rail in front to the platform that had corroded foot damage.
Wednesday morning saw eight OTHR volunteers on the day, de-pinning sleepers, moving the old rail out and moving the newer rail in place. After bolting the newer rail to the existing rail ensuring the rail was in gauge and was pinned 1 in 4. Also, the Station building had a bit of a clean on the platform side and inside to remove the dust generated from a month of construction rebuilding the platform retaining wall and coping edge.
Thursday morning saw four OTHR volunteers continue re-pinning the newer rail and recover another 4 lengths of rail from another part of the yard, ready for Saturday's mini working bee.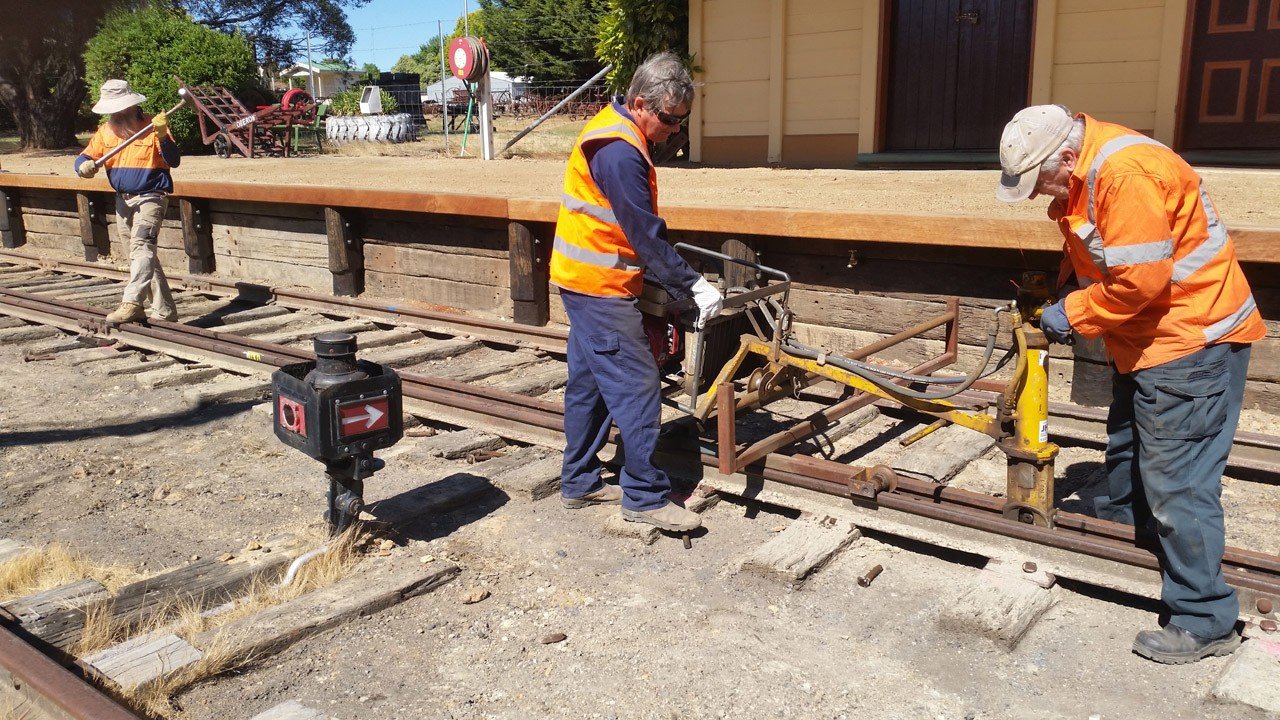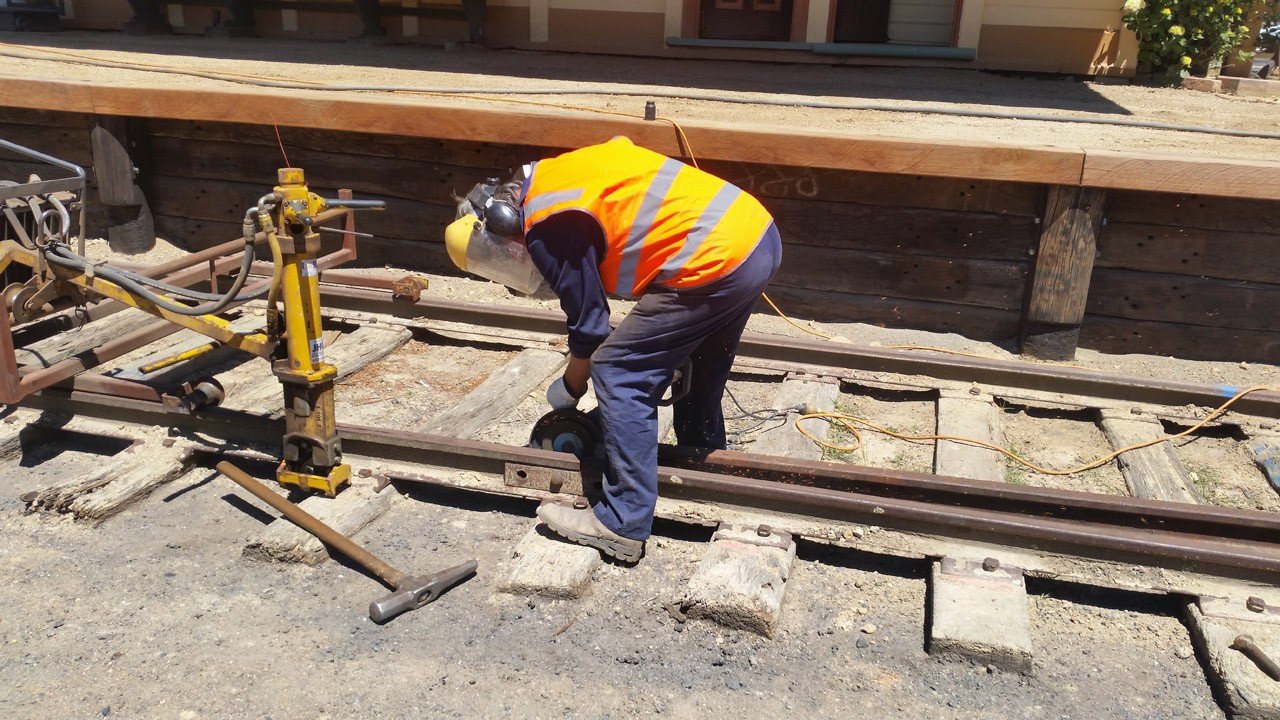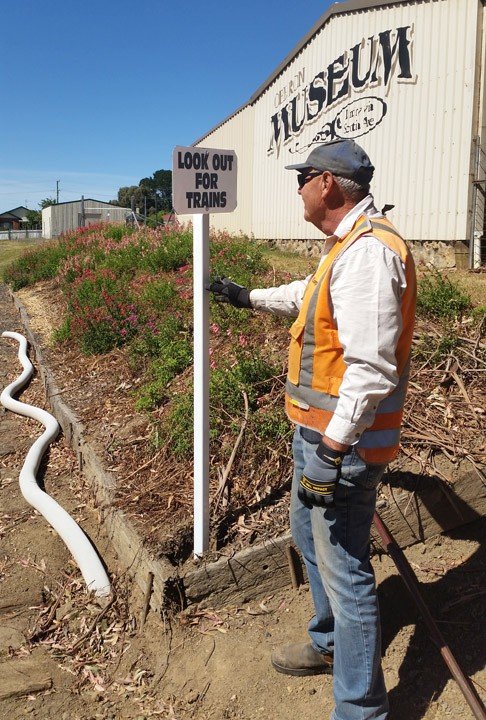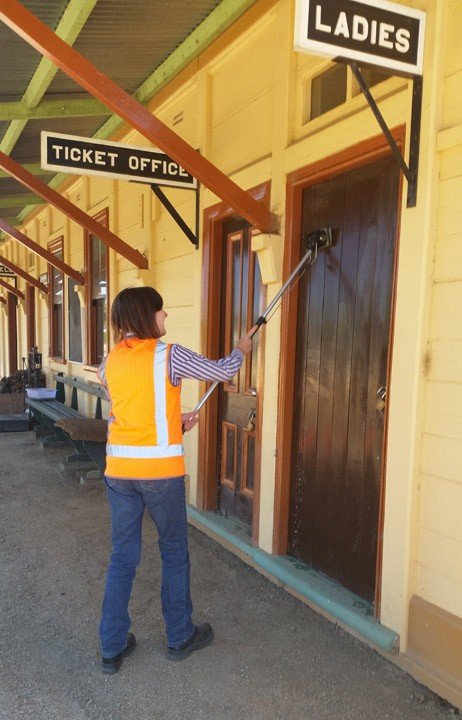 OTHR Merchandise
OTHR Cap
.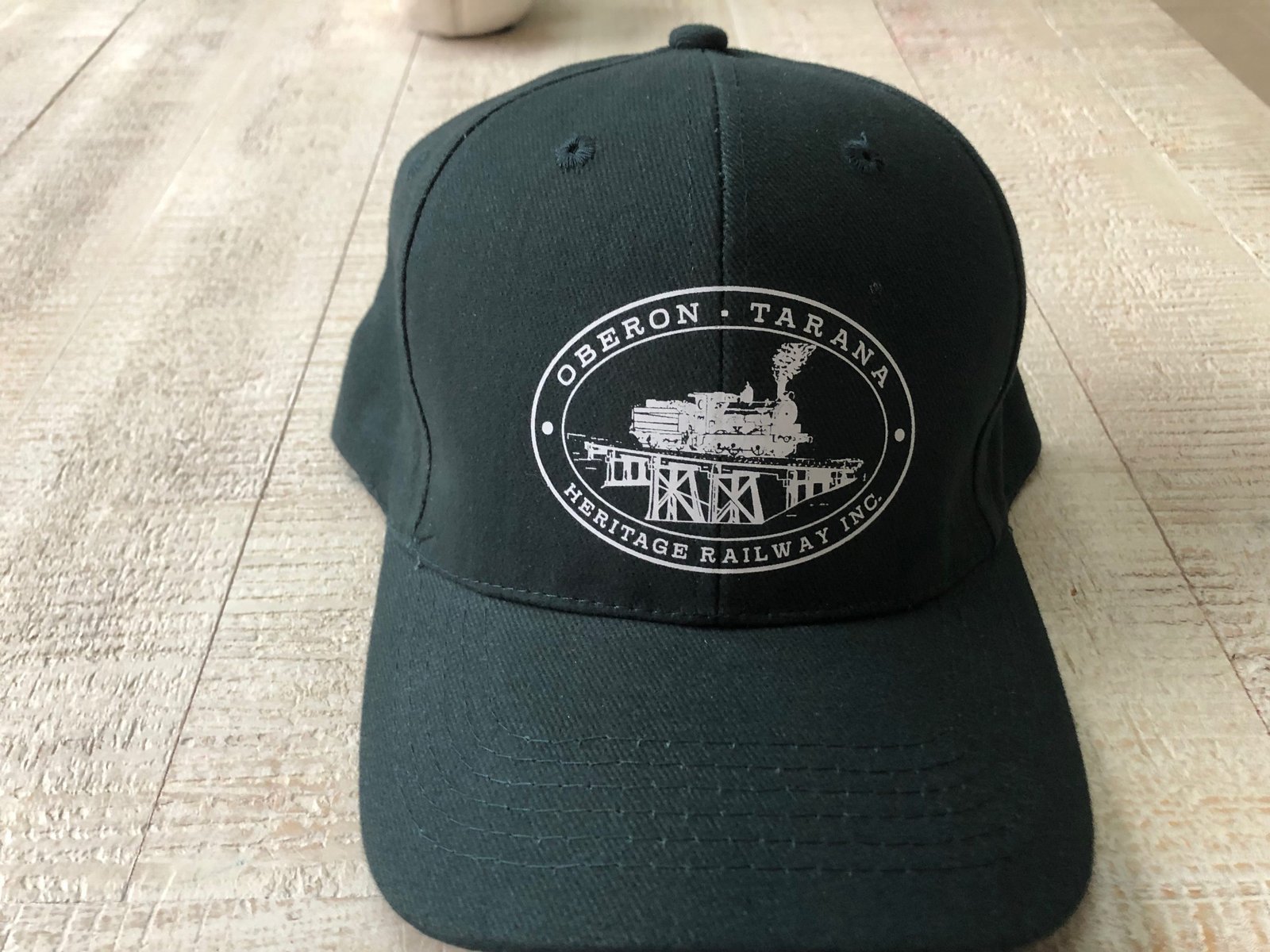 New Product, Bottle Green Cap with white OTHR logo, fits all sizes.
Purchase today and be a part of the OTHR team. Proceeds go towards the reopening of the Oberon to Tarana line.
Priced at $29.00 non – members, $24.00 members. Price includes GST and Postage and Handling anywhere in Australia. Overseas will incur extra postage.
OTHR Badge
New Product. Reproduced from the original OTHR badge; metal and enamel.
Priced at $15.50 non-members – $13.50 members. Price includes GST and Postage and Handling anywhere in Australia. Overseas will include extra postage.
Payment:
Direct Bank Transfer – BSB 062632. Account Number: 1004 9851. Please include your name as a reference. Cheques – made payable to Oberon Tarana Heritage Railway Inc. and mailed to PO Box 299 Oberon NSW 2787.
Subscribe via Email
Enter your details to subscribe to this blog and receive notifications of new posts by email.