Project Working Bee 4th & 5th December 2019
A Project Working Bee will be held on Wednesday 4th & Thursday 5th December, apart from the working bee the Bi-monthly General Meeting will be held on the Wednesday night, 7:30pm at the RSL Club.
Planned track work activities includes:-
Swapping rail from the Stock Road /1 Road with some rail from 3 road in front of the Station Platform.
Replace 5 timbers under the Coal Store turnout.
Replace 2 timbers under the T/O lever.
Replace the timber under level 'E'.
Start / finish times for both days 8:30 am to 3:00 pm. See you there!!
Working Bee 6th & 7th November
A project working bee was held on the first Wednesday and Thursday of November, to extend 6 road further into the Rollingstock shed. This will allow for more rollingstock to be stabled undercover and restoration works to be carried out.
Wednesday morning saw six OTHR volunteers, laying out sleepers, moving the rail in place. After bolting the newer rail to the existing rail on the southern end, ensuring the rail was straight the down rail was pinned 1 in 4. The process was repeated on the up rail, gauging and pinning 1 in 4, before pinning the entire panel.
Thursday morning saw seven OTHR volunteers with two new members at their first working bee. With the extension complete, volunteers moved onto other tasks which included:-
Depinning sleepers for the station retaining wall.
Some painting inside HLF 854.
Reorganising work benches and storage areas.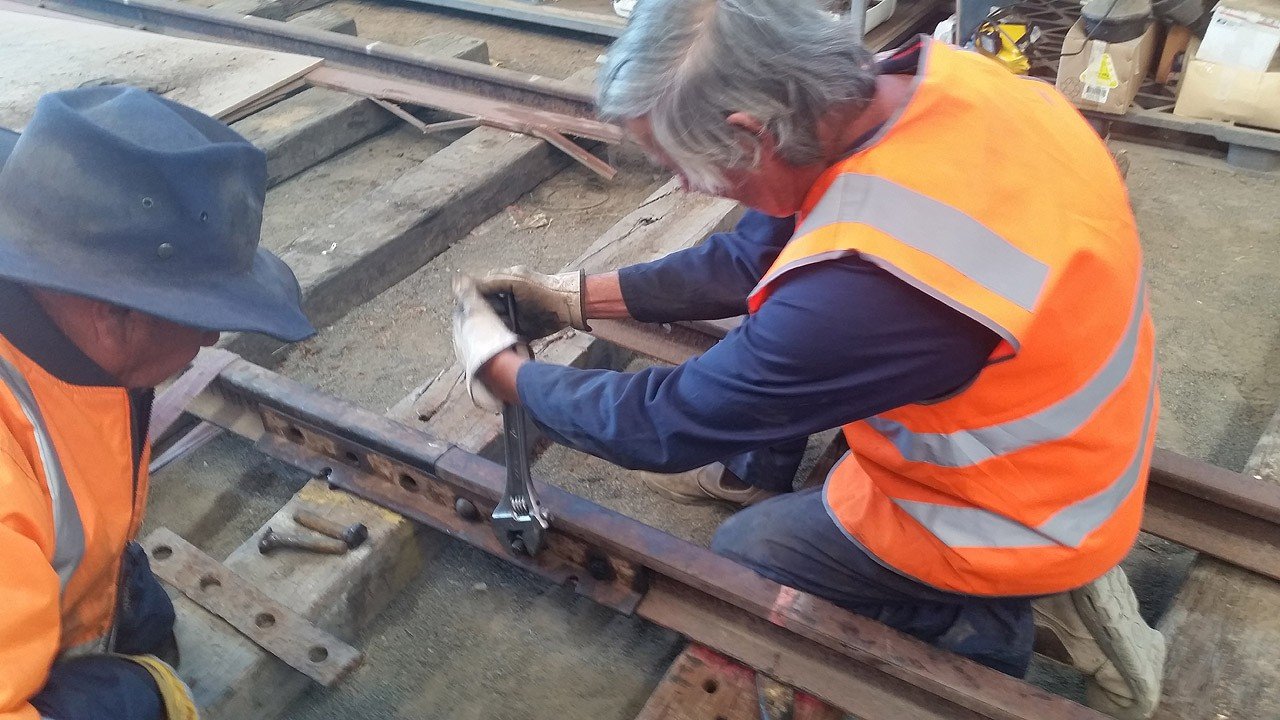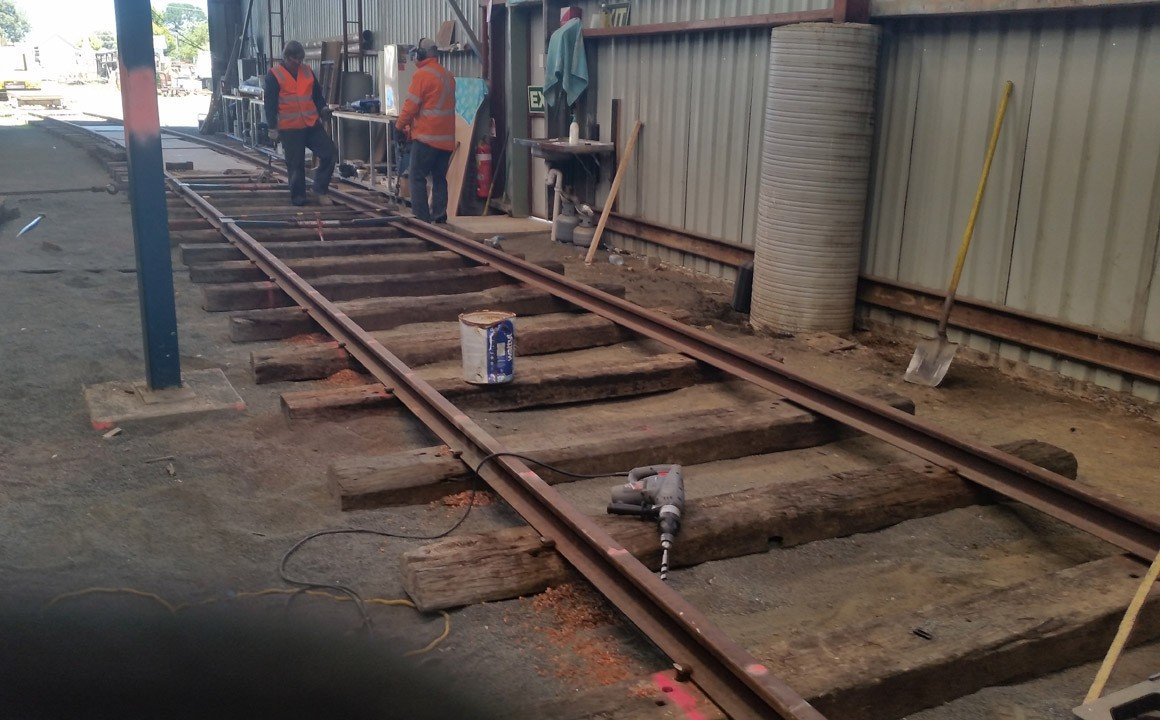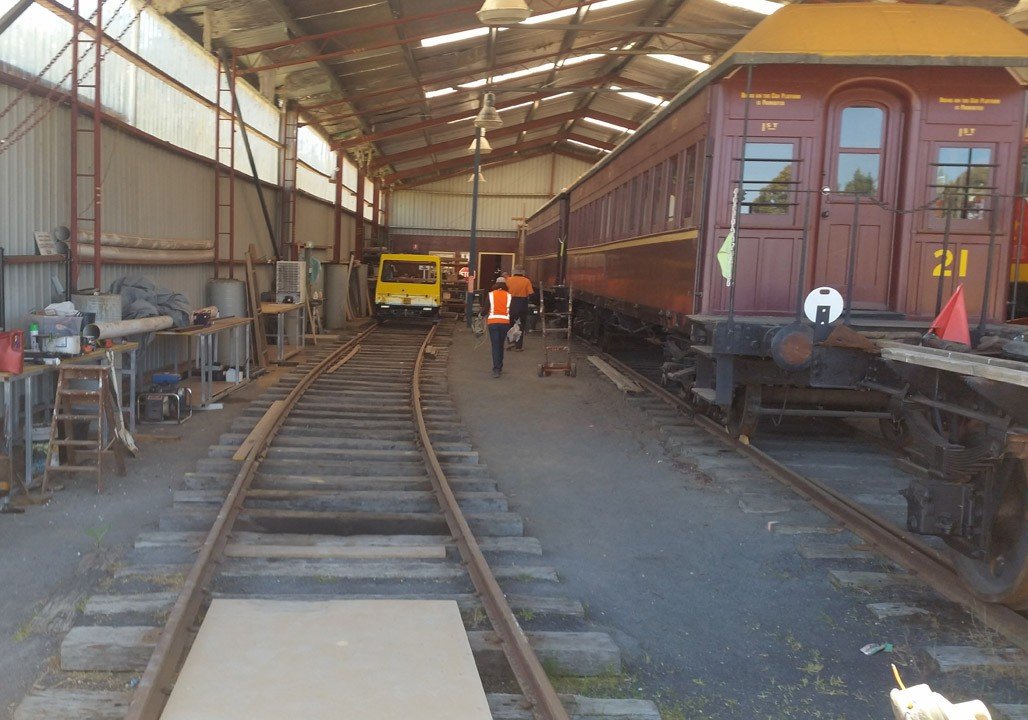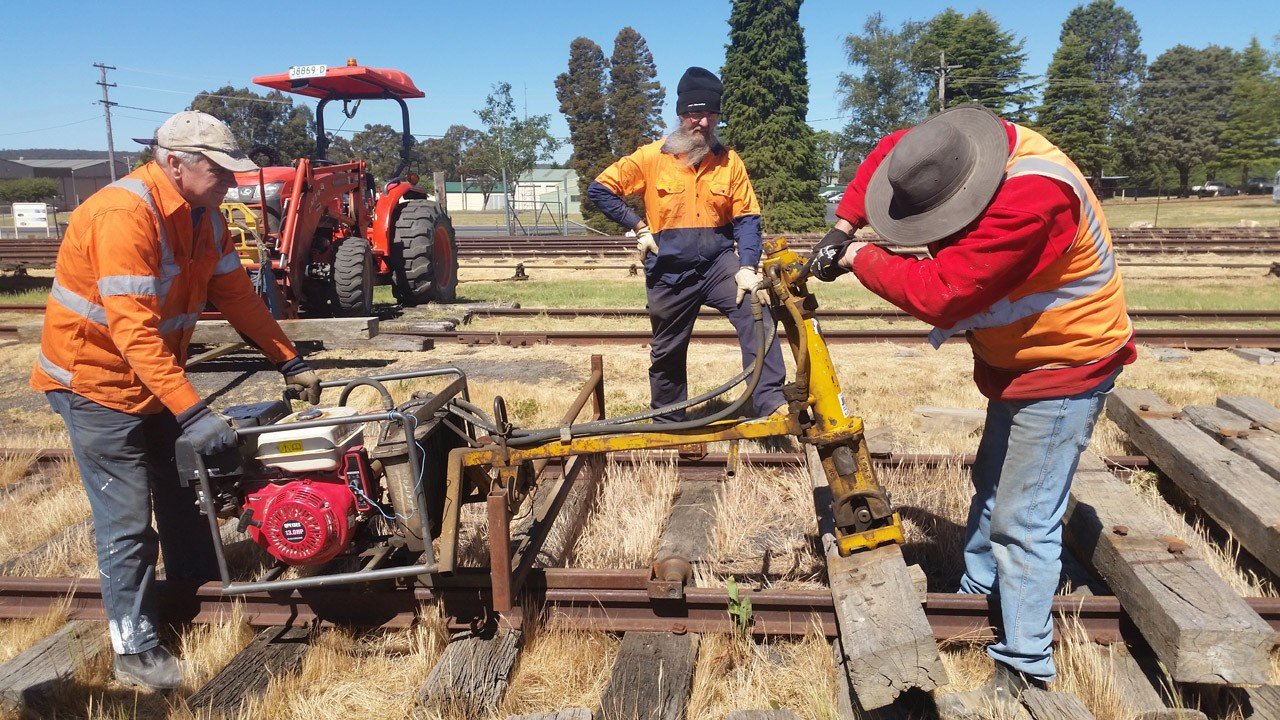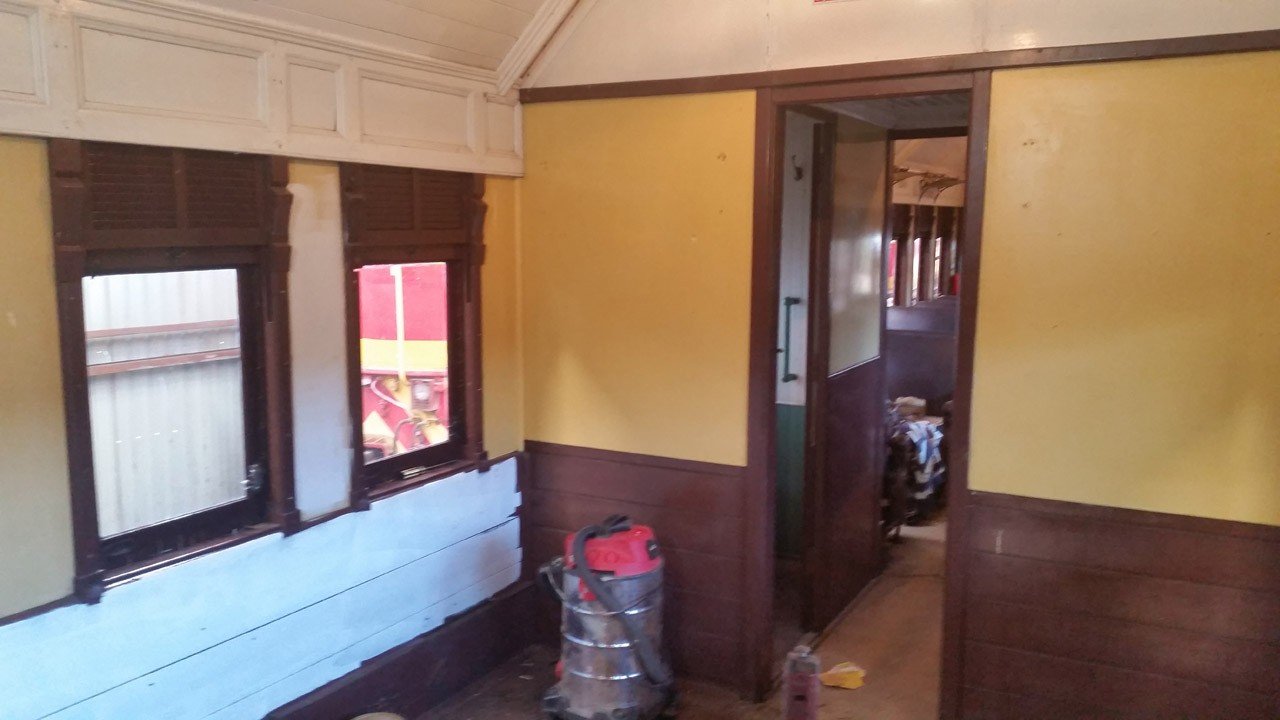 Project Working Bee 2nd & 3rd October 2019
A project working bee was held on the first Wednesday and Thursday of October, to replace four 24' lengths of rail on 3 road (main) at the Station Platform.
Wednesday morning saw five OTHR volunteers, remove all dog spikes, unbolt the fish plates and remove the rail. During the afternoon four lengths were relocated from the stockpile and placed on the sleepers. Early finish on the day to allowed members to go home and get ready for the AGM held on Wednesday night.
Thursday morning saw four OTHR volunteers, cut one rail to length, drill bolt holes in one end, bolted all four rails up, gauged and pinned all four rails, job done!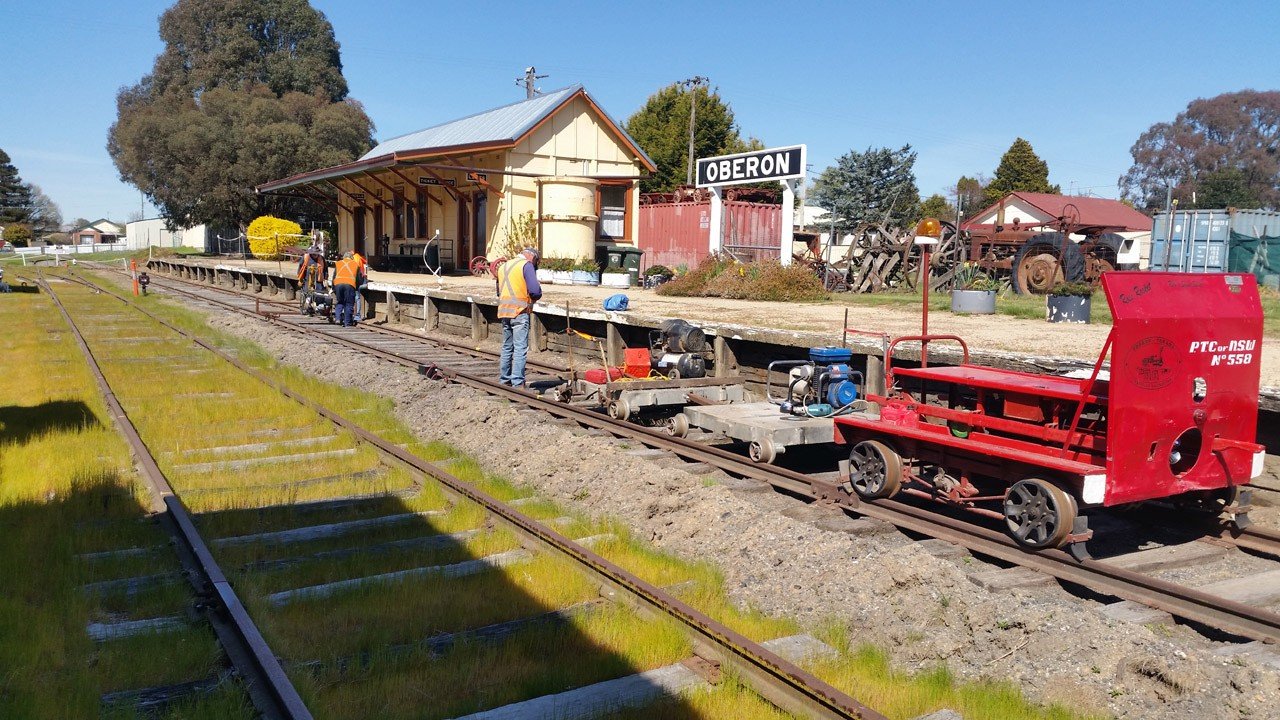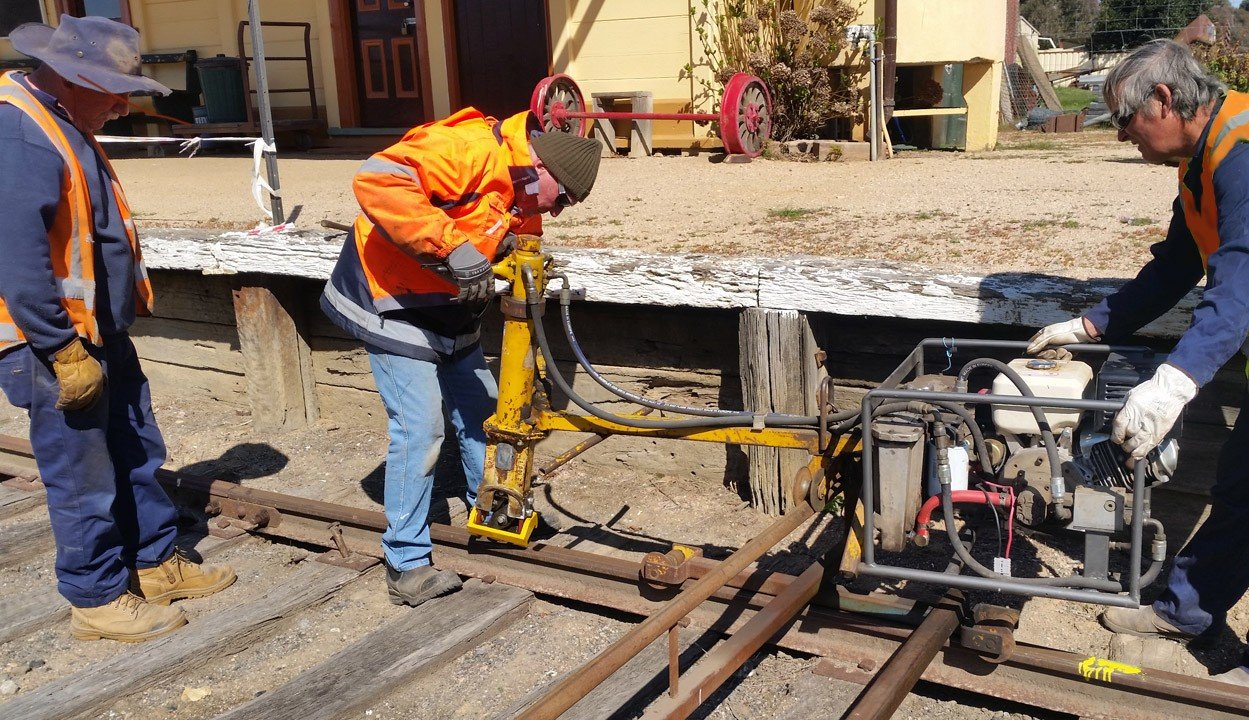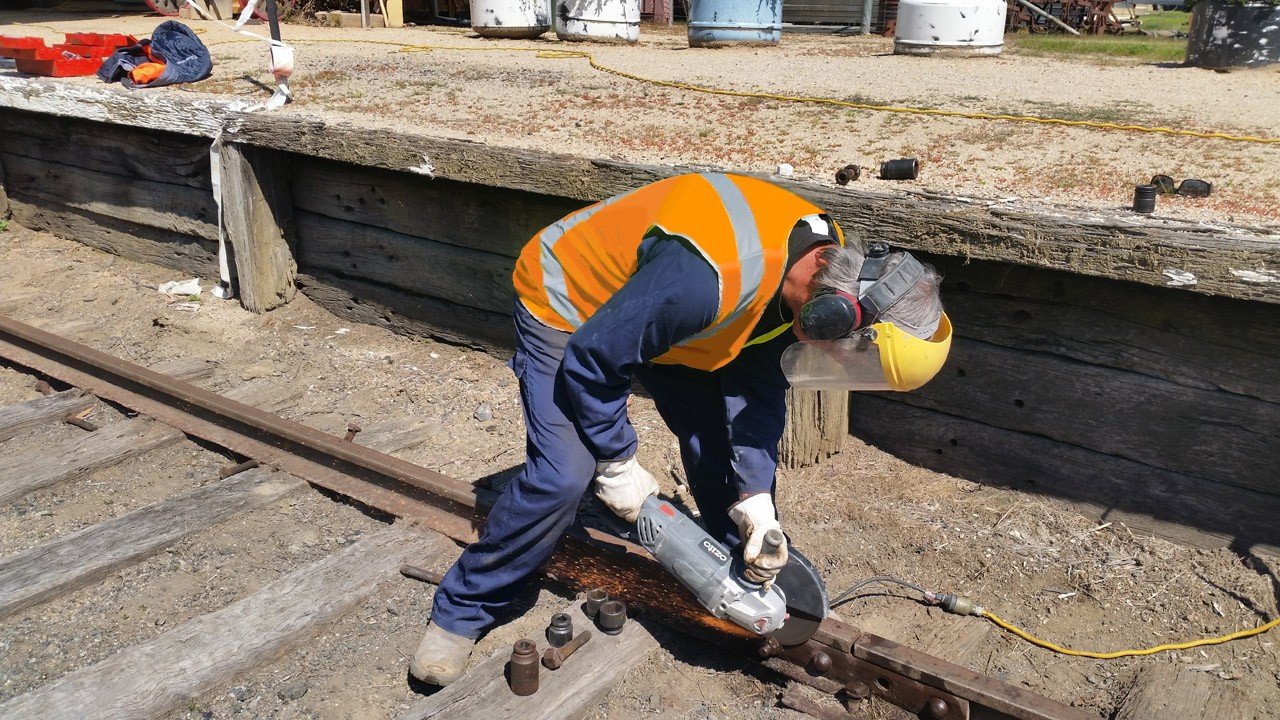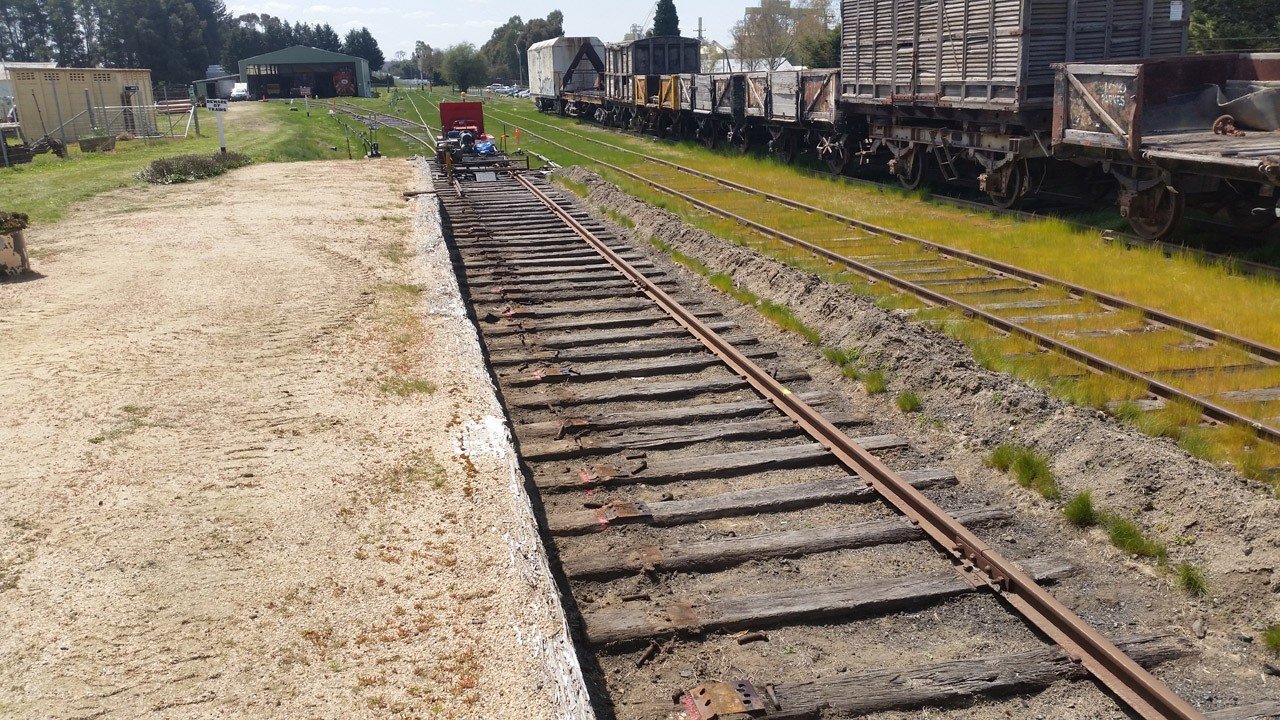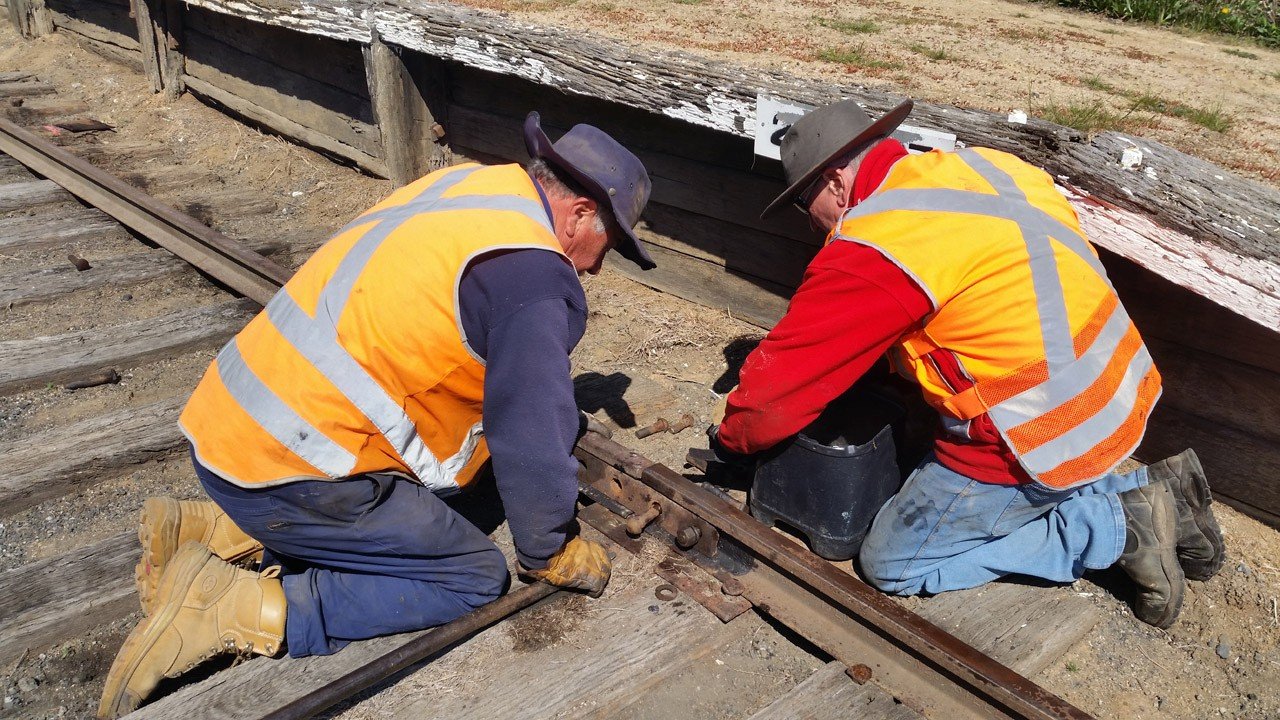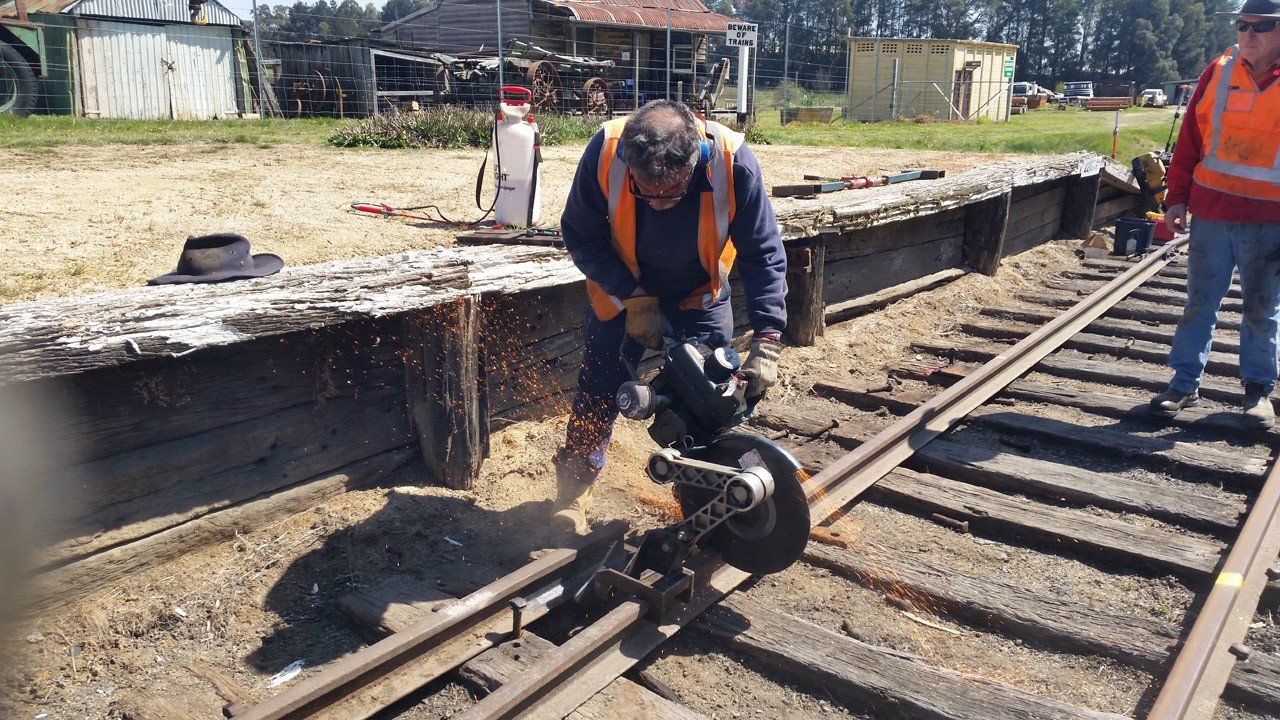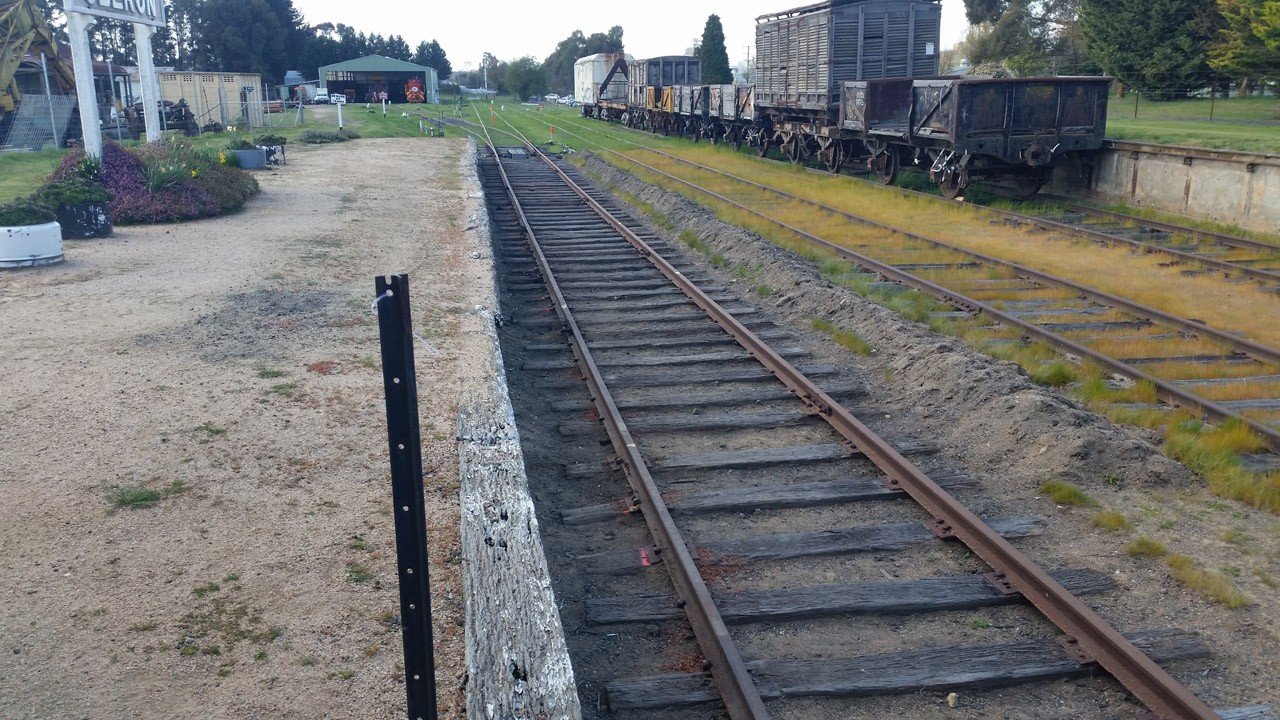 Working Bee 7th & 8th August
Working Bee 7th & 8th August
OTHR volunteers have carried out a number of jobs in the Oberon yard which included:-
• Replaced a number of timbers, supporting compensators and other rodding equipment.
• With the replacement of all the timbers, the 'de-rail' on the run around loop was reconnected and worked from the 'C' frame lever, the first time in 40 years (last train).
• Relocated two stop blocks.
• Installed some racking in the storage container and re-organise the storage container.
• Develop and events management SOP.
• Some tidy up in the office.
We had 6 volunteers for each of the two day, with the second day testing from a weather point of view (wind and rain)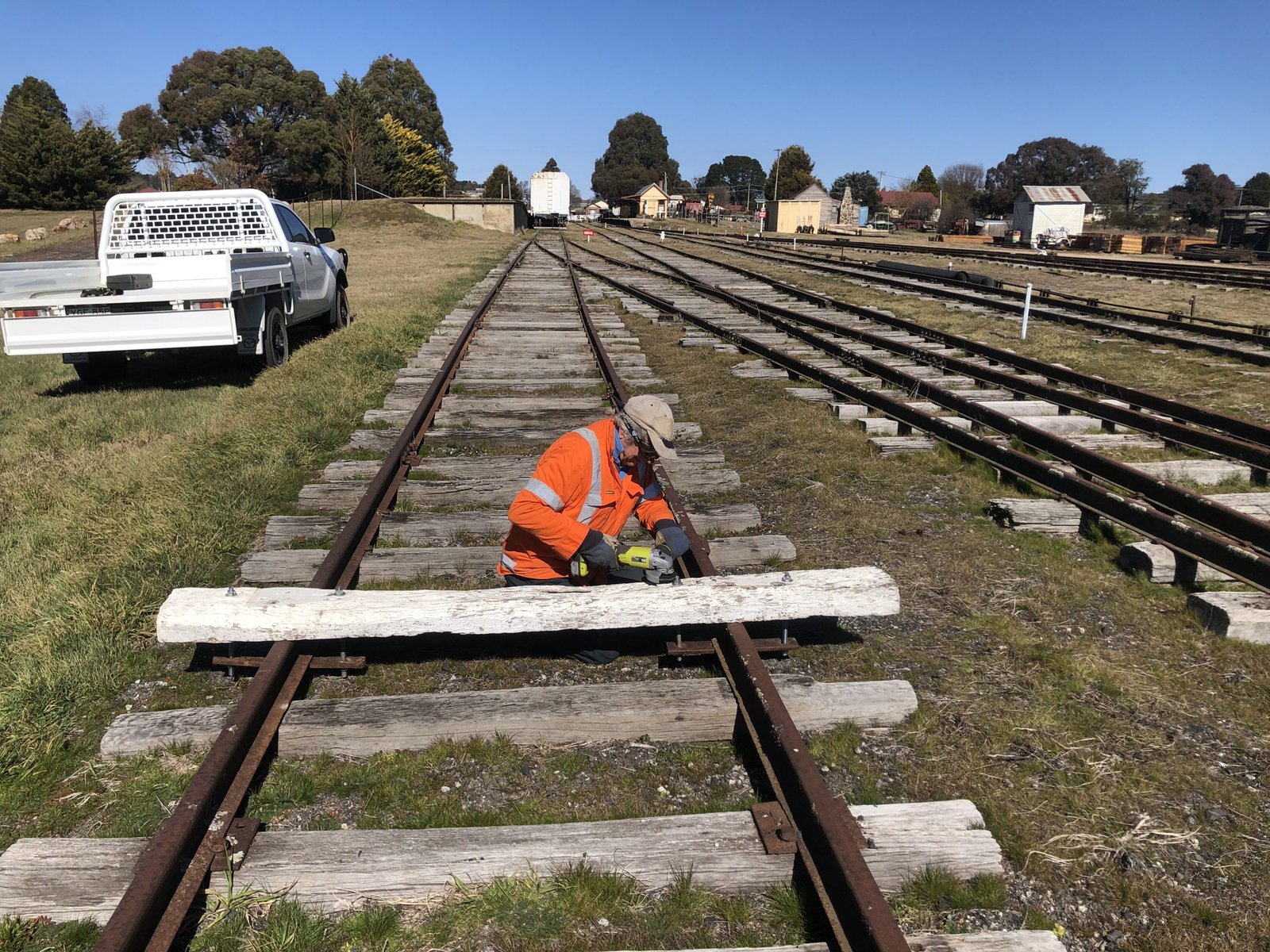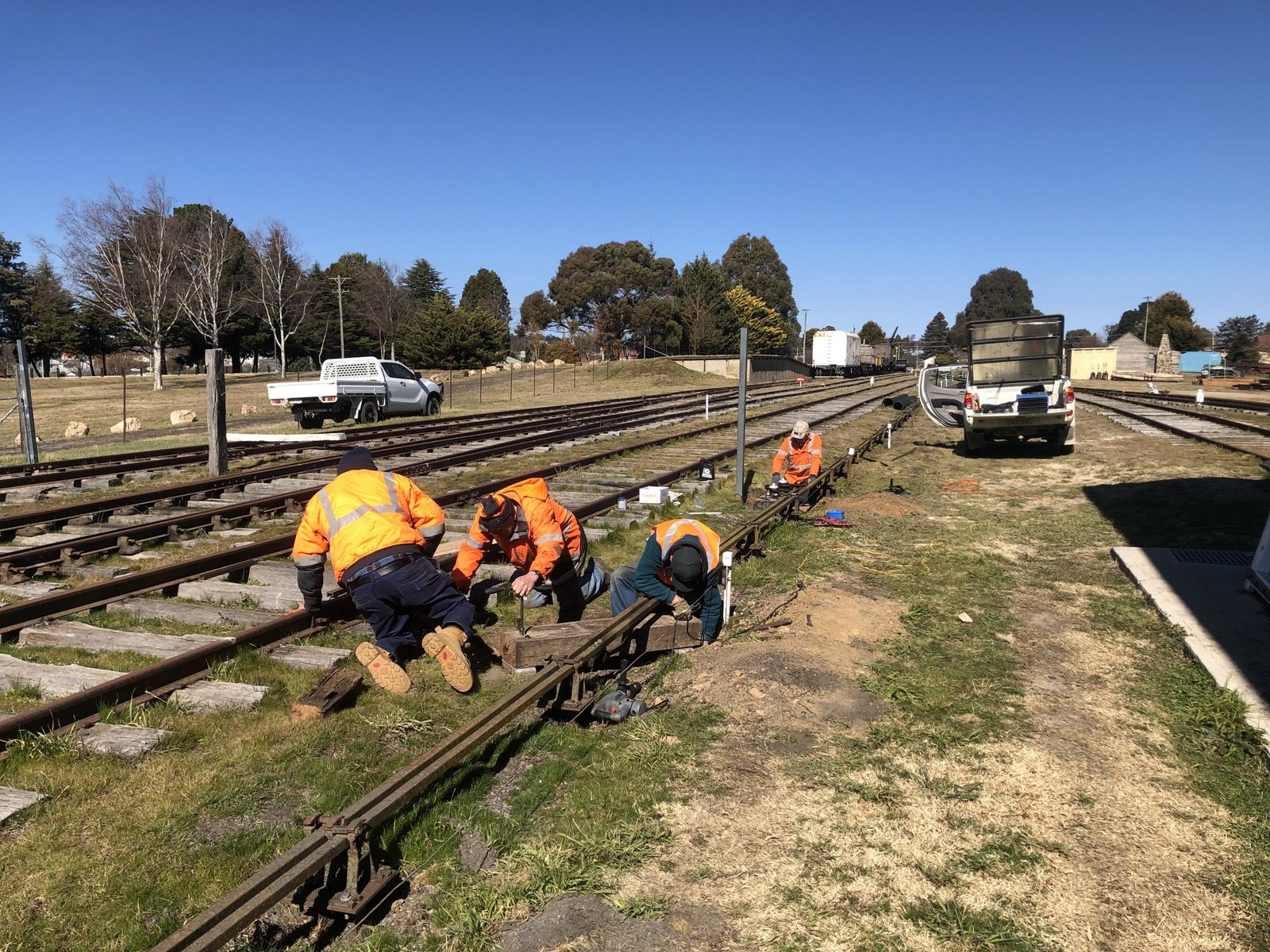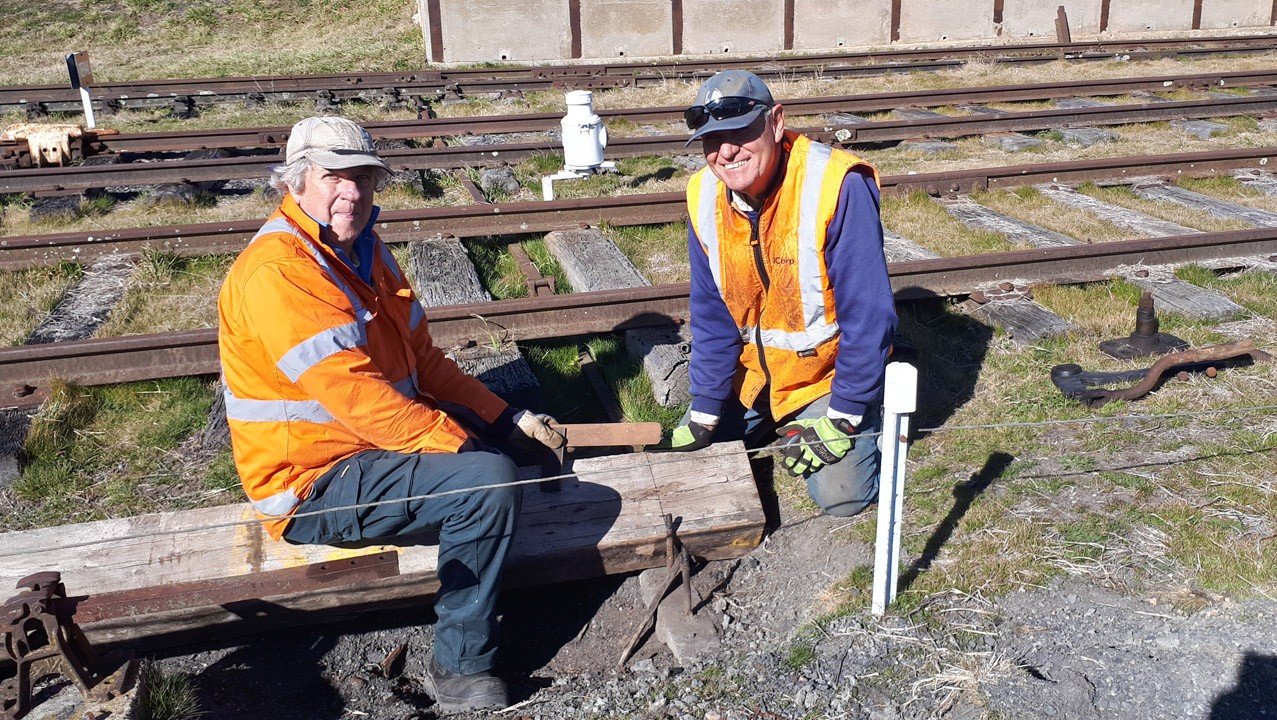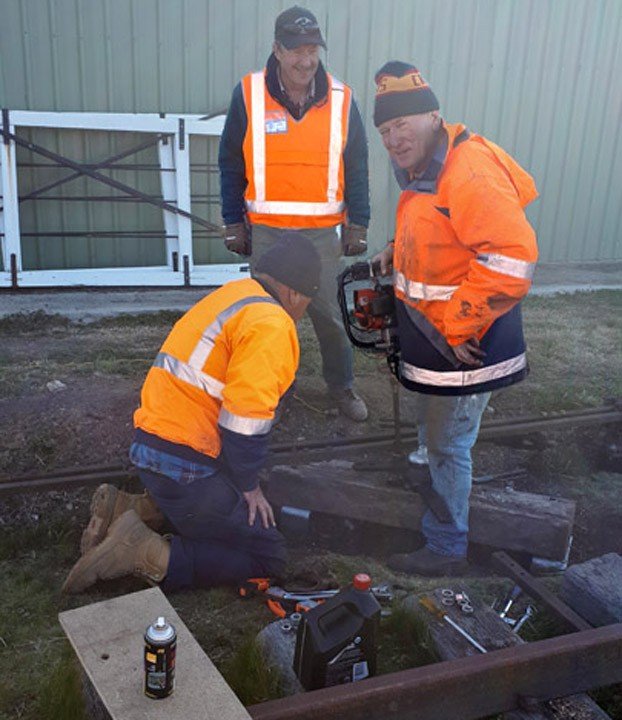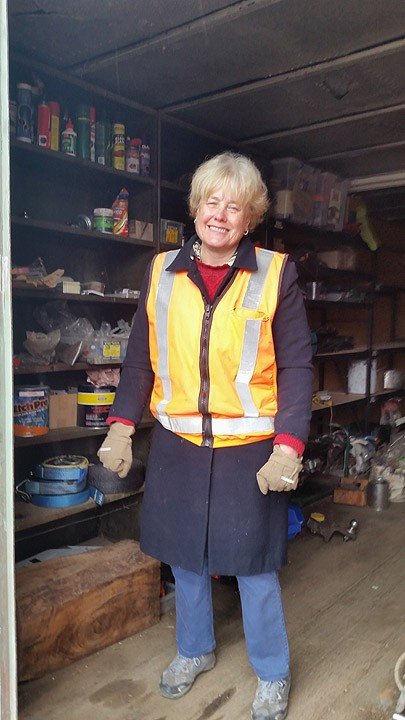 OTHR Merchandise
OTHR Cap
.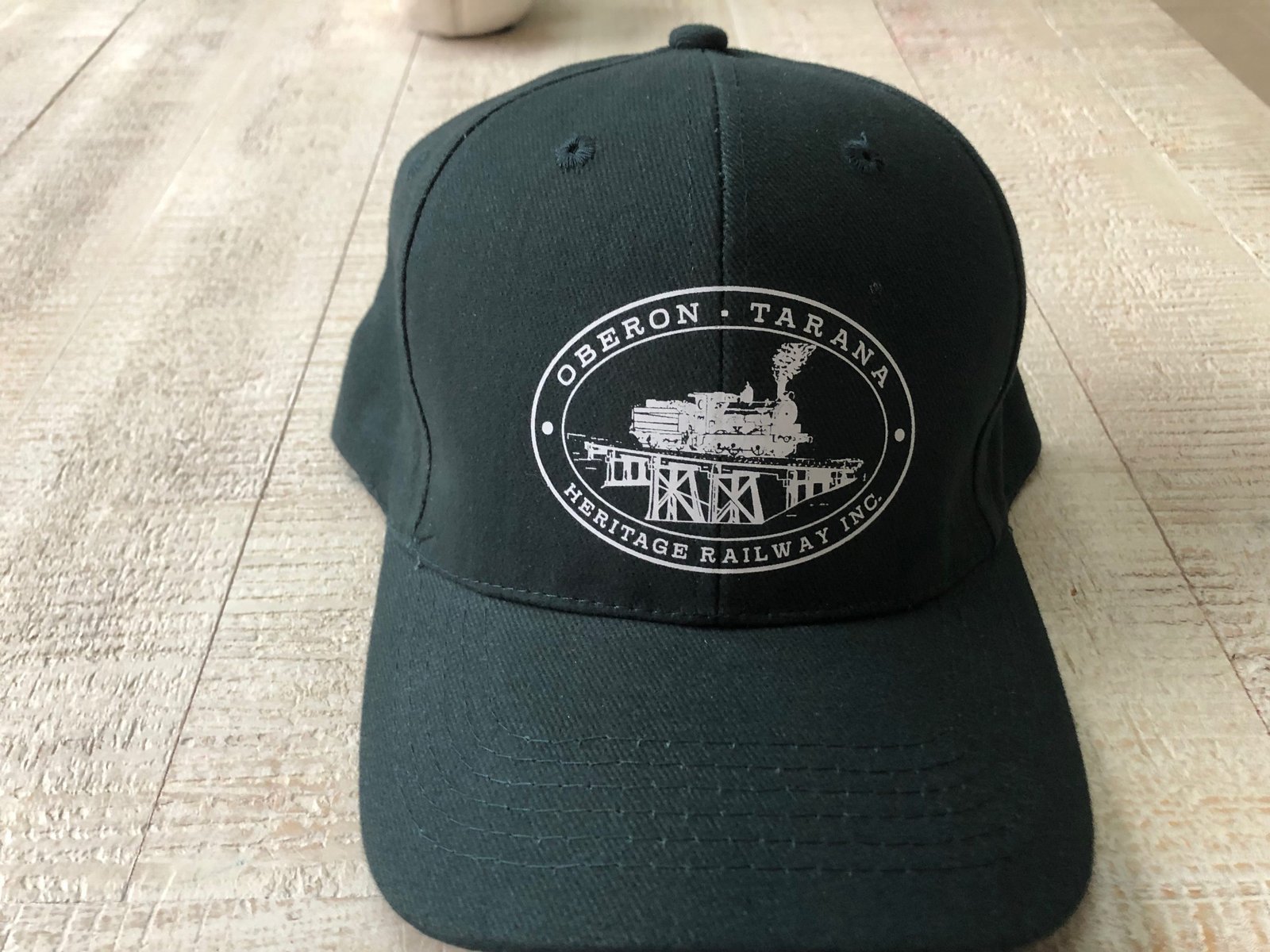 New Product, Bottle Green with white OTHR logo, fits all sizes.
Purchase today and be a part of the OTHR team. Proceeds go towards the reopening of the Oberon to Tarana line.
Priced at $29.00 non – members, $24.00 members. Price includes GST and Postage and Handling anywhere in Australia. Overseas will incur extra postage.
Payment:
Direct Bank Transfer – BSB 062632. Account Number: 1004 9851. Please include your name as a reference. Cheques – made payable to Oberon Tarana Heritage Railway Inc. and mailed to PO Box 299 Oberon NSW 2787.
Working Bee wrap June / July 2019
OTHR volunteers have carried out a number of jobs in the Oberon yard which included:-
• Vegetation control by Barry.
• Removal material from either side of the sleepers for better drainage, this work was carried on Road 3 (in part).
• De-clutter of the awning area.
• Double pinning a number of sleepers through the Crossing and Check / Stockrail unit.
• Sorted out some rail by the weight sizes, stacked some scrap rail on a trailer for disposal.
• Worked on the control rodding / compensator for the Catchpoint.
• Unloaded 26 tonnes of hardwood timber for the station platform retaining wall and coping edge.
Below are some photos of the platform timbers
Next working bee is 7th & 8th August
1. More compensator work – checking and repair – making sure that everything works according specification
2. Removing lengths of rail with condemned foot replacing same – shifting from stockpile on Lowes Mt Rd
3. De-cluttering area next to container
4. Moving caravan
5. Container – Assembling shelving from Bunnings and getting "stuff" off the floor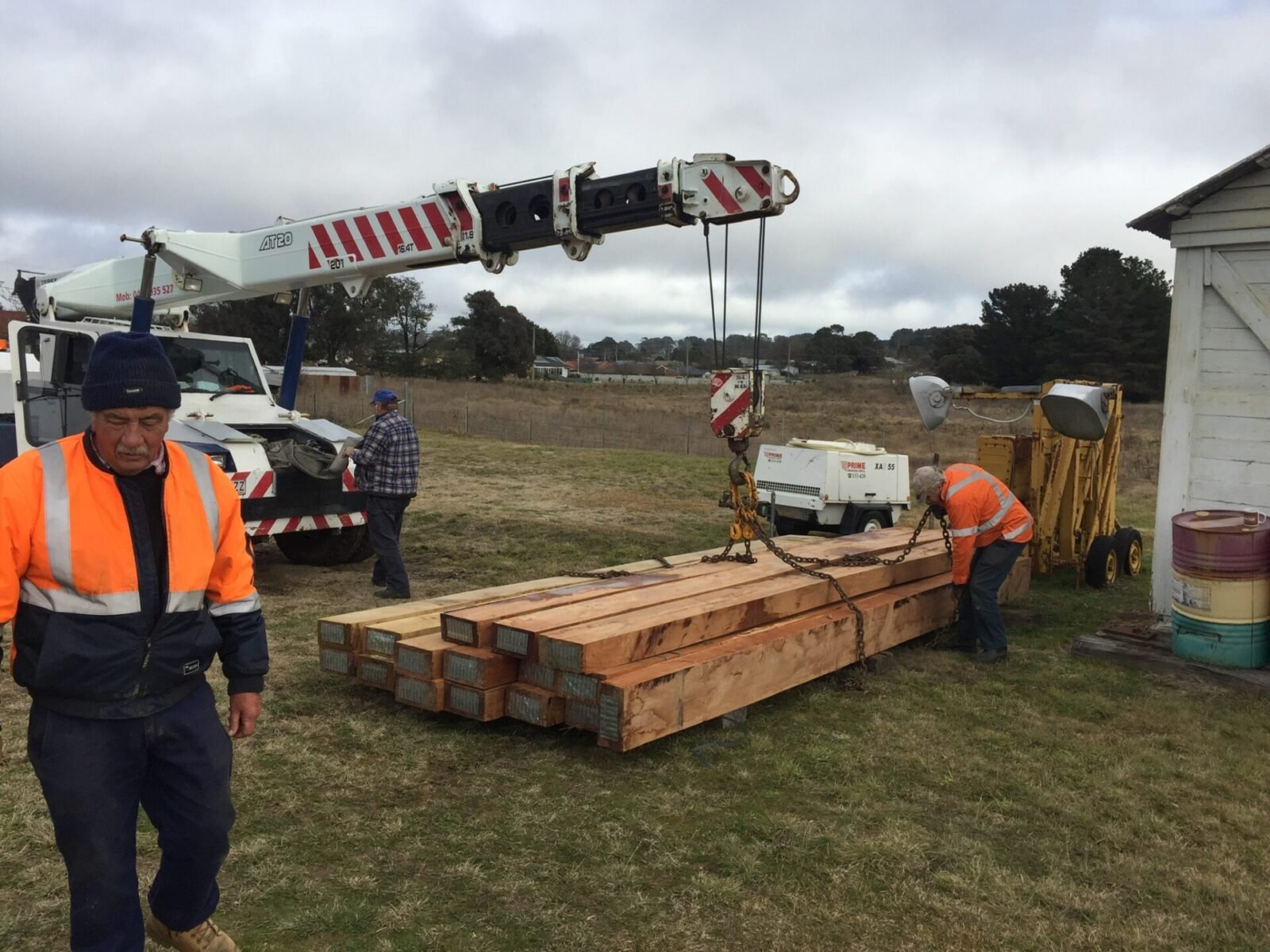 Shunting accreditation and HOL 8th July
It has been a great day for Oberon Tarana Heritage Railway Inc. We have received confirmation from The Office of the National Safety Regulator (ONRSR) that our application for a variation to accreditation to shunt using a locomotive or tractor has been approved. OTHR can shunt (subject to Loco crewing) rolling stock in the Oberon yard. We will in time be able to move Car Set 21 to the platform for Open Days and other special events such as Heritage Transport Rallies.
In recent times we have made a further application to John Holland Rail and Transport for New South Wales to vary our heritage operators licence north of Albion Street. This particular application includes some extra distance past Hazelgrove to just south of the Snake Valley Creek Bridge near Carlwood.
The station platform project is progressing. The timber has been delivered. Tenders will be called when the Department of Environment and Heritage completes its assessment of the project.
These activities are just another step towards OTHR's mission which is, to run a Diesel hauled Heritage Tourist Train along the Oberon Branch Line.
Project working bee 5th & 6th June
Working bee wrap 5th & 6th June.
At the project working bee the weather was a talking point at the start of both mornings, with some signs of snow around on Wednesday morning and a -5C start on Thursday the team was keen to get working. We had 7 volunteers, 3 locals (Greg, & Graham & Martyn) and 4 'out of towners' (Geoff & Mick from Sydney) and (Phil & Jenny from the Southern Highlands). Oberon Council supported the working bee with an excavator and driver Ken, this is part of Councils 356 in-kind grant.
Jobs completed were:-
• Installation of a 40-foot Stockrail / Checkrail unit on road 5.
• Installation of 5 turnout timber bearers in 4/5 turnout.
• Relocation of a number of drums of Perway spares.
• Cutting a number of 'Km' posts from scrap rail.
• Early spring clean on the inside of Car Set 21.
During Thursday morning Scott McGregor who was the guest speaker at Wednesday night's General Meeting called in and checked out activities that OTHR have been carrying out.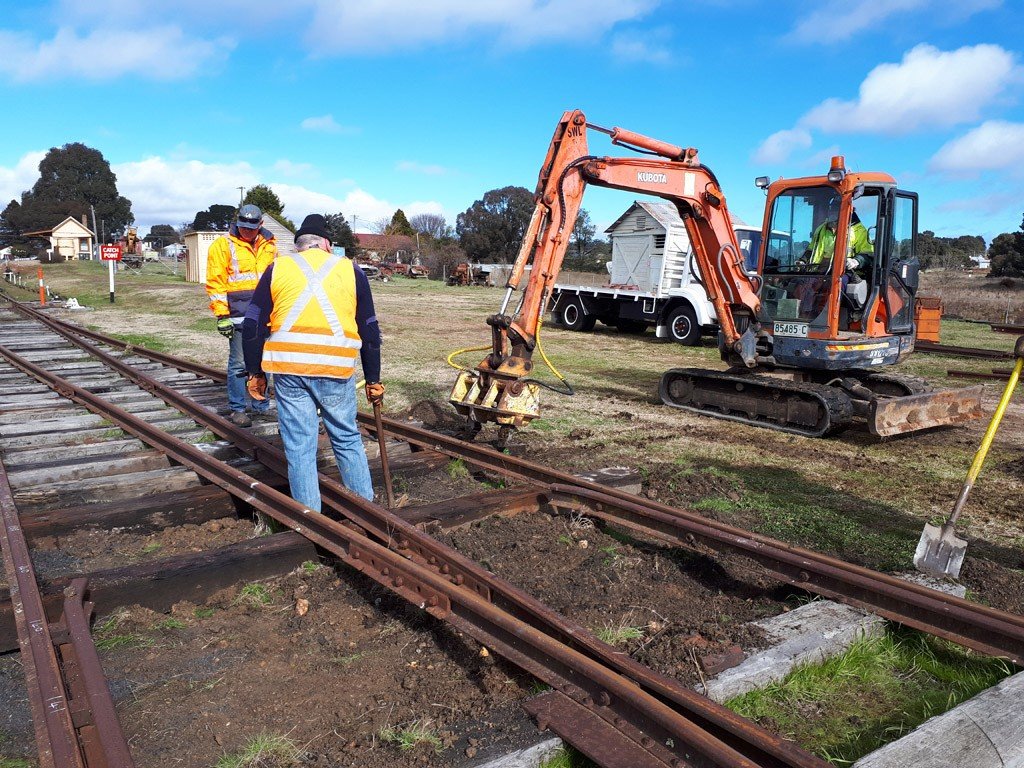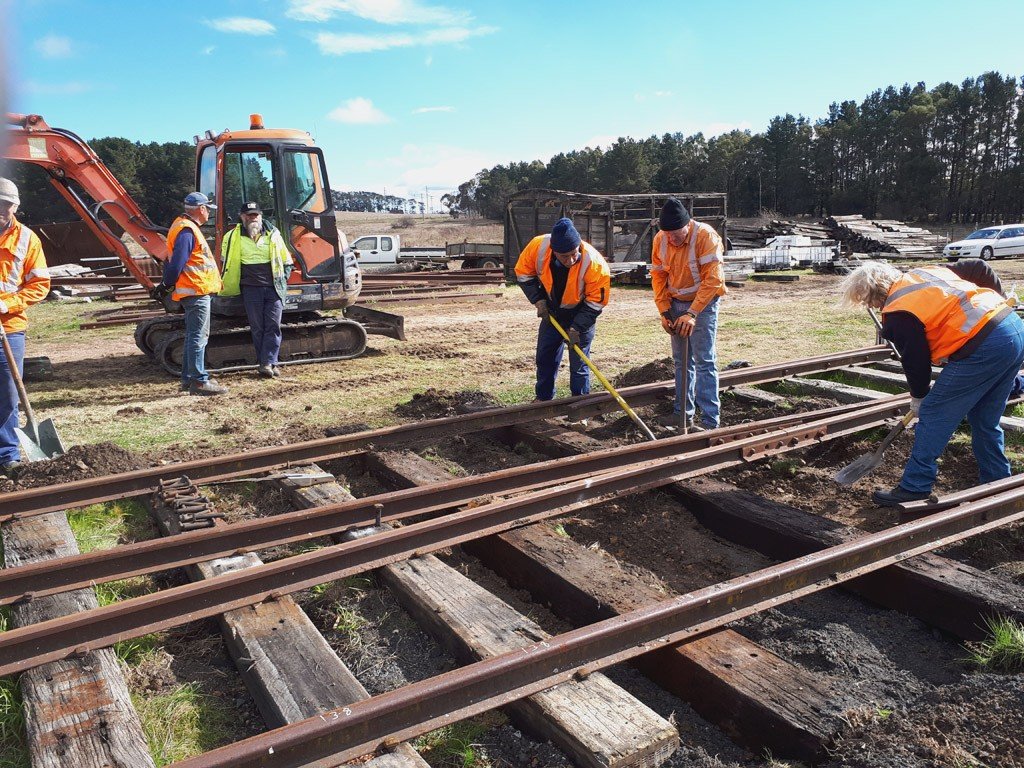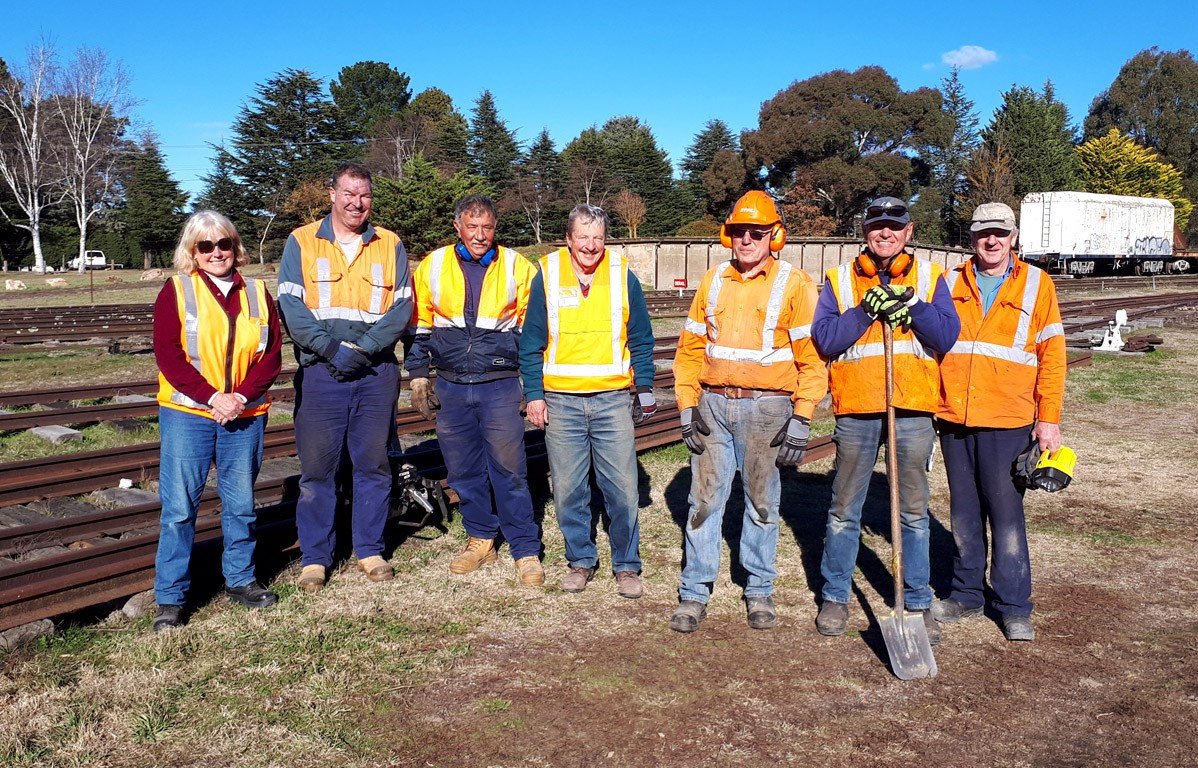 Federal funding for Stage 1 of the Project Oberon to Hazelgrove
With the Federal Coalition Government being re-elected last night the Oberon Tarana Heritage Railway Inc. looks forward to the $1.5M Federal funding commitment given on the 9th may by the Deputy Prime Minister Michael McCormack MP for Stage 1 of the restoration Oberon Branch Line between Oberon & Hazelgrove. click on the below for details
Commitment to funding Oberon branch line.
Deputy Prime Minister Michael McCormack MP and Federal Member for Calare Andrew Gee MP announced an election commitment of $1.5M to the Oberon Tarana Heritage Railway Inc. The $1.5M will go towards the restoration of 5.2Km's of the Oberon branch line between Oberon and Hazelgrove. After this section of the branch line is operational again OTHR will be seeking accreditation to run a Diesel hauled Heritage tourist train along the line which is expected to attract over 8000 visitors a year. This is only stage 1 of OTHR's planning, stage 2 is the section of line between Hazelgrove and Carlwood.
In the attached photo is Michael McCormack, Andrew Gee and some of OTHR's committee standing on the end platform of a privately-owned carriage stored at the Oberon Station.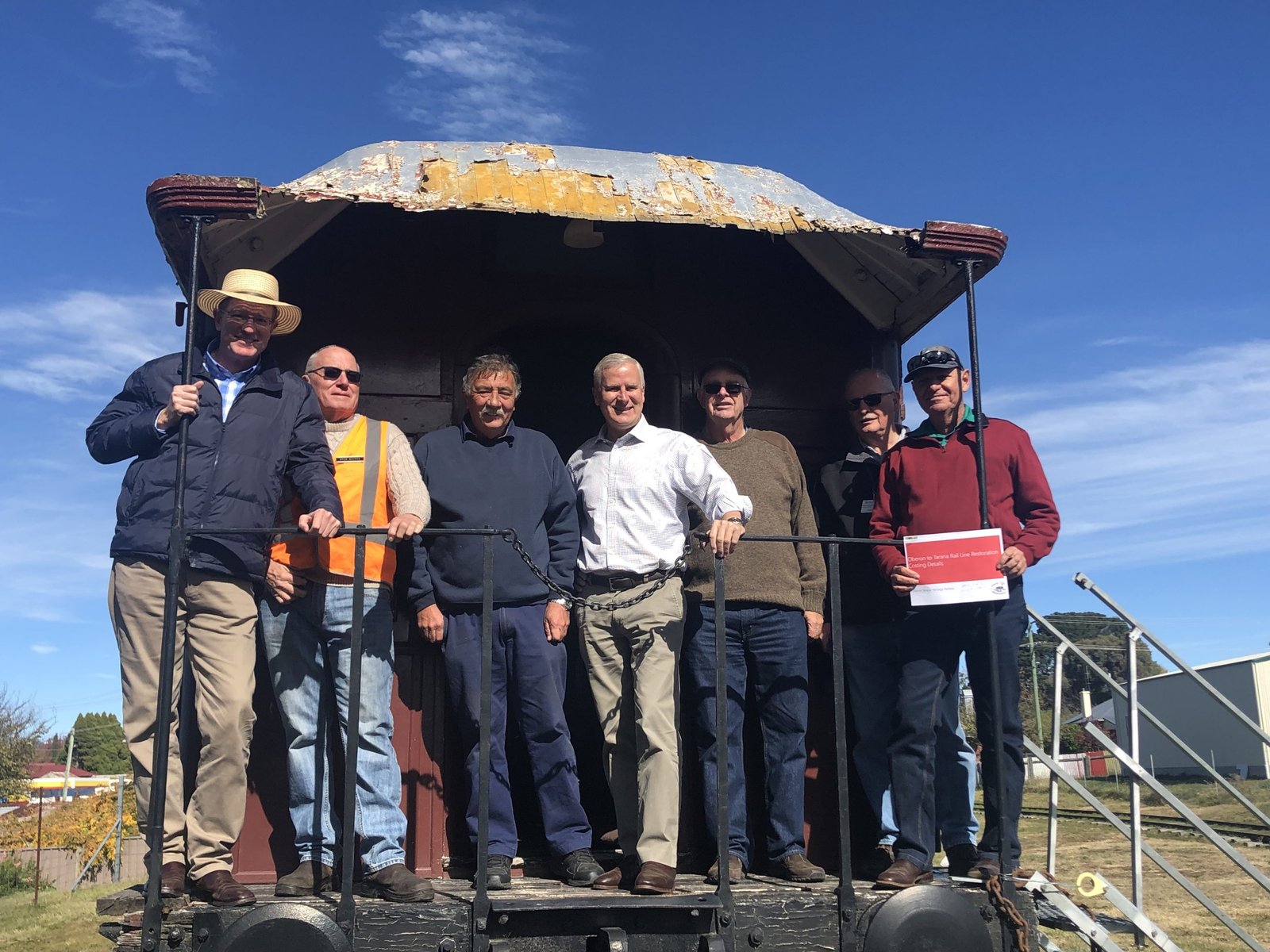 Subscribe via Email
Enter your details to subscribe to this blog and receive notifications of new posts by email.