HP-036         Reviewed 08/12/2016
OTHR's Health and Fitness Program aims to ensure volunteers, employees and contractors who perform rail safety work are of sufficient good health and fitness to perform the functions for which they are certified or the tasks they undertake.
OTHR has procedures incorporating the requirements of the National health Assessment Standard for Rail Safety Workers (NHAS)  in managing the health and fitness of its rail safety workers.
The duties and medical requirements for all positions have been documented. Each position has been assessed for risk and categorised .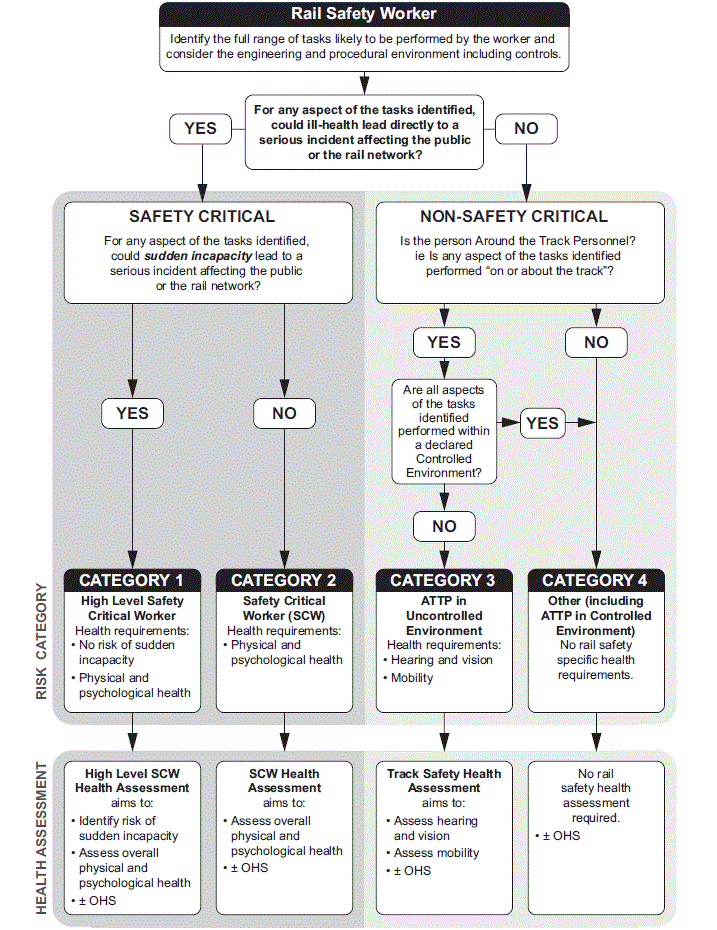 A register of rail safety workers and the date their health assessment is due is maintained by the Document Controller. Each individual rail safety worker will be informed when their health assessment is coming due and arrange for their next periodic assessment.
All members who perform rail safety work are required to notify the President should they develop a medical or fitness conditions, either temporary or permanent, which would preclude them from operating any specified class of equipment or if they no longer wish to be listed in the accreditation register.
Appointment of Authorised Health Professionals
The following doctors who are experienced in the examination of rail safety workers have agreed to be Health Professionals for OTHR.
Dr Andrew Krzyszton     4751 2211.   441 Great Western Highway     Faulconbridge. 2776
Implementation of Health Protocols
(a) All OTHR Rail Safety Workers are volunteer ATTPs who work in a controlled environment. Current tasks on the railway line include rebuilding and painting cattle stops, rebuilding the line embankments and replacing unsuitable sleepers. These volunteer workers are currently classified as Category 4 Risk.
(b) Before any rolling stock is operated on the line all volunteer ATTP who work on the line will be required to undergo a health assessment to have them classified as Category 3 Risks because they work in an uncontrolled environment. The workers will be assessed for sight, hearing and mobility.
(c) Category 1, High Level Safety Critical Worker and Category 2, Safety Critical Worker Health Assessments will be undertaken by all OTHR members who will be carrying out tasks classified as Category 1 or Category 2 Risks. Health assessments will include:
Safety Critical Worker Questionnaire and history
Comprehensive physical and psychological assessment
Vision and hearing
Screen-based Equipment (SBE) examination, if required
Drug screen, if required, plus
Cardiac Risk Score and
Any additional health assessments that need to be implemented to meet OH & S requirements.
The National Standard Requirement for Periodic Health Assessments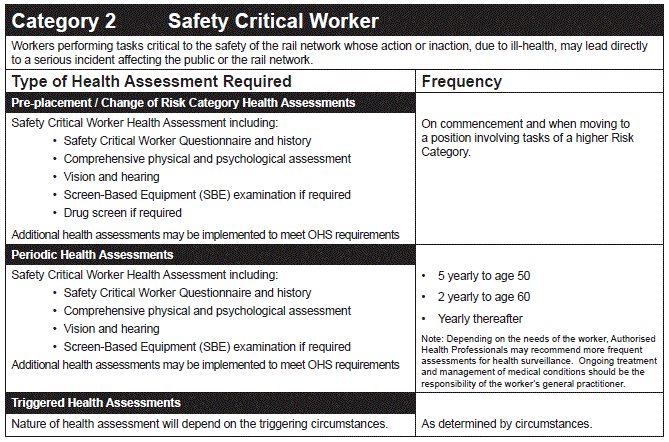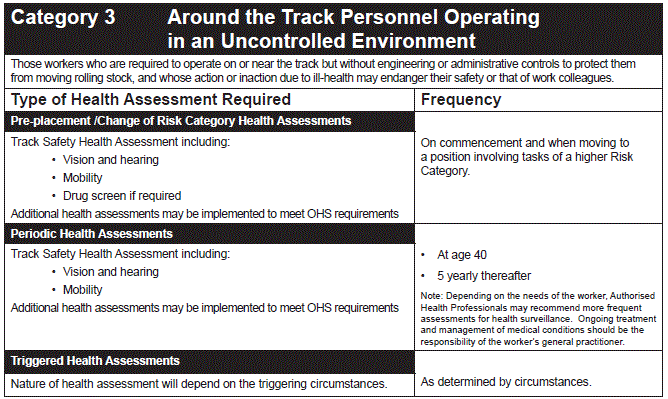 Privacy
In administering the rail safety worker health assessments, OTHR ensures that the Privacy Principles contained in Privacy Legislation are complied with and that health records are managed and stored in line with the relevant Health Records legislation.
Resources
OTHR Associated Documents:
Last updated: June 16, 2021 at 16:29 pm