HP-008        Reviewed 15/07/2021
AR-001-00: Review of Safety Management Systems
(National Regulations – regulation 17, schedule 1 cl 8)
OTHR has developed and implemented a procedure to review its safety management system on a regular basis to ensure that it still complies with the law and is working effectively. The regulations state that the review should be at least once a year.
The aim of the review is to consider whether any changes are required to:
Assess the effectiveness of the SMS, and identify areas of weakness with a view to rectify these;
Assess the effectiveness of any changes since the last review;
Review any notifiable occurrences and procedural breaches since the last review;
Consider the results from any audits (internal or external);
Consider the findings of any incident investigations; and
Review any issues identified from prohibition or improvement notices.
The review is required to be summarised and reported in the safety performance report submitted to ONRSR.
Summary of the Review Process: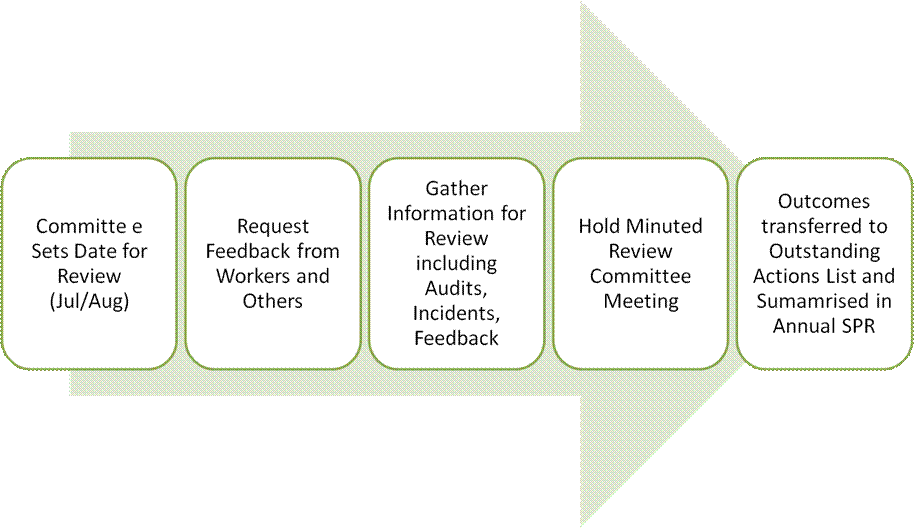 The following things are done to ensure an effective review and revision:
The System's Manager is responsible for coordinating and implementing the review with the assistance of the committee as required.
Undertake consultation amongst our rail safety workers, OTHR members, relevant stakeholders and industry professionals outside of the organisation.  This includes approaching individual Rail Safety Workers at a Tool Box meeting held for this purpose.
The review is conducted via a special committee meeting held a couple of months prior to due date of the Annual Safety Performance Report.
Minutes of this meeting are kept and include full details of the matters which were considered including copies of supporting documentation.
Ensuring a plan is established to implement recommended changes, and any actions are included on the committee 'outstanding actions list' to ensure they occur.
Communicate the results of the review to rail safety workers via general meetings, toolbox meetings and updates on our website, and members at the AGM
The results of the review are summarised and included in the annual Safety Performance Report which is submitted to the Rail Safety Regulator.
Resources:
AR-001-00 Review of Safety Management Systems 01072021
AR-001-01 Safety Management System Review Procedure 01072021
OTHR Associated Documents:
Last updated: July 15, 2021 at 19:51 pm